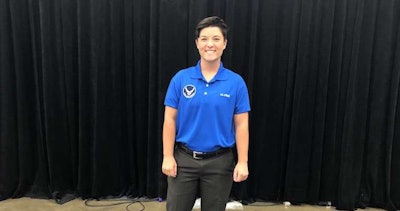 When driving from base to base, U.S. Air Force veteran Summar Hanks, from Crowley, Louisiana, would often stop at truck stops along the way. She was drawn to the trucks she saw during those stops, and she decided one day she'd like to be on the road in one of her own.
That day came last May when Hanks started her trucking career with U.S. Xpress, after exiting her role as an Air Force information management specialist in 2016 to join the Louisiana Air National Guard.
"You have your own office on wheels. You don't have to worry about anyone over your shoulder. You just do what you need and on your own time," Hanks said.
Hanks was named as one of four top finalists up for the 2018 Transition Trucking: Driving For Excellence award. The finalists were announced during a ceremony at the Great American Trucking Show in August.
The award is a partnership between Fastport, the U.S. Chamber of Commerce Foundation's Hiring Our Heroes initiative, and Kenworth. The award recognizes rookie truck drivers who are U.S. military veterans.
"I'm still trying to take it all in," Hanks said at GATS after she found out she was a top finalist.
As a driver for U.S. Xpress, Hanks pulls refrigerated goods for Sam's Club and Walmart. She thinks her experience in the military helped give her the tools she needs to be successful in trucking.
"They require the same from you so leadership, attention to detail, all of that goes together," Hanks said.
She says she enjoys trucking so much that she wishes she'd done it sooner. For other women who may be interested in trucking, Hanks recommends finding a good training school and going for it.
"Do it. Get the appropriate training and go for it. You probably won't regret it. It's wonderful. I have nothing bad to say about trucking. I absolutely love it," Hanks said.
Hanks has an associates degree in applied science, information management. She will soon graduate with a degree in business management from Trident University.