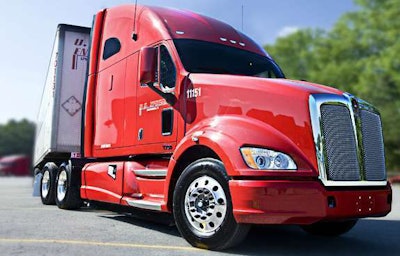 One of this country's largest trucking companies will be publicly-traded … again.
Chattanooga-based U.S. Xpress filed paperwork May 7 with the federal Securities and Exchange Commission to sell stock; it expects to raise some $100 million. The date of the initial public offering was not set.
U.S. Xpress started out as a family-owned company in 1986 with just 48 trucks, according to the company's website. It went public the first time in 1994, only to return to private ownership in 2007.
The company, which says it operates 7,000 tractors and 15,500 trailers, is primarily owned by the families of co-founders Max Fuller and the late Pat Quinn. Eric Fuller, son of Max Fuller, became CEO of U.S. Xpress and Lisa Quinn Pate, the daughter of Pat Quinn, was named chief administrative officer in March of 2017.
In a prospectus filed with the SEC, the company said it earned $1.55 billion in revenue in the 2017 calendar year, and posted a net loss of $3 million.
The company filed paperwork to be traded on the New York Stock Exchange under the symbol "USX".