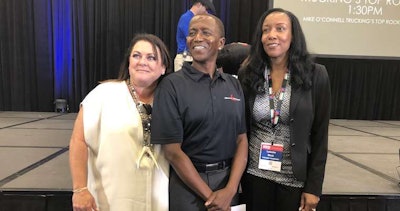 Between his roles as an over the road company driver for Stevens Transport and serving in the U.S. Army Reserves, Chris Young stays busy.
Young spent 15 years in the U.S. Army before transitioning out and into the Reserves last year. In the Reserves, Young serves as a petroleum supply specialist, which is the same work he did in the Army. During his day job with Stevens Transport, he hauls a reefer.
As a member of the Reserves, Young participates in monthly drills as well as annual training that takes him off the road for 2-3 weeks. Juggling trucking with the Reserves has been easy for Young, though, thanks to the support he says he receives from his fleet.
"Stevens has made it pretty easy to balance the two. I get back usually the day prior before I'm supposed to report so I'm able to shave, get a haircut, get ready for drill," Young said. "They've made it easy and that's how I'm able to balance it. I just come back to work the next day and resume my career. I could take an extra day but I get stir crazy."
Young says trucking is a good career choice for veterans because both the military and trucking rely on structure and the ability to work independently.
"If you don't mind working on your own and being independent and being by yourself a lot, because it really is a long time on the road and you don't have physical contact with people," Young said. "If you are able to overcome that, trucking is a perfect fit for you because whatever you're doing on the military side, you're doing on the trucking side, minus having one-on-one interactions with somebody every day."
Young is one of four top finalists up for the 2018 Transition Trucking: Driving For Excellence award. The award is a partnership between Fastport, the U.S. Chamber of Commerce Foundation's Hiring Our Heroes initiative, and Kenworth. The award recognizes rookie truck drivers who are U.S. military veterans.
"I stand in amazement. I'm honored. Shocked. I'm still processing," Young said during the Great American Trucking Show, where the award finalists were announced.
Young said awards that recognize veterans, like the Transition Trucking award, are important because they let veterans know they haven't been forgotten.
"Sometimes coming over into the civilian side can be overwhelming. You've always had this support mechanism in the military side. Now you're out there and there's nobody else. It feels sometimes like it can be a dog eat dog world," Young said. "It's not so much that way in the Army. So when you're coming into the civilian side, you're trying to navigate and find your way because you've done something for so long and it's been repetitive."