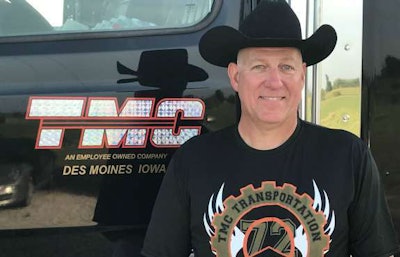 Editor's Note: Between now and Friday, Truckers News will profile the finalists in its annual Mike O'Connell Trucking's Top Rookie Award, which will be presented at the Great American Trucking Show in Dallas.
___
For more than two decades, Mordaunt "Platt" Brabner's wife supported him during his military career in the Marines and the Navy. Now he's taking the opportunity to do the same for her.
"That's why we're living where we're living," Brabner says. "I gave up my career path for her so she could come down to Austin, Texas. She got a job at Austin Ovation Fertility. She's a senior embryologist down here, and that's her dream. She's very good at what she does, and she's known all over the country for traveling and teaching."
Unfortunately, Brabner says that while Austin was the perfect fit for his wife's career, it proved to be less compatible with his job search. While many companies appreciate the training and experience that come with his former military career and business degree, few are willing to pay the salary associated with such skills. Plus, the 58-year-old added, many of the technology-centered companies in Austin are looking for employees a couple decades younger.
Still, Brabner was determined to make a life for himself and his wife in Austin. He started his own LLC and did security work for two years before adding on an agricultural number, which allowed him to manage and lease 80 acres of farmland for wheat and hay production. It wasn't the fit Brabner was looking for though.
"I decided really quick that I'm not a farmer, and if I'm not going to be in the business world, I'm going to go do something that I enjoy doing," Brabner says. "I'm a very hands-on person, so I decided that either flying or driving would be my career choice in the location where I live and have settled down. I love the physicality of truck-driving and flat-bedding, and it was a no-brainer for me. I used my GI Bill to get my CD … and once I saw and did my research and background on TMC, it was a no-brainer that I wanted to go with a company that was like-minded, employee-owned, and would allow me to run my little operation as a business and it was up to me to make it successful."
And successful it has been. Since his graduation from Roadmaster Drivers School, Brabner has put over 120,000 miles over the road on his company truck in his first year with TMC Transportation, hauling everything from mushrooms to steel. His hard work and commitment has led him to be nominated for several honors and awards, including the Mike O'Connell Trucking's Top Rookie Award presented by Truckers News.
Brabner says he was thrilled when he heard the news.
"I had to pull over because I was shaking," Brabner says. "I was just floored. It's amazing to be recognized for something, especially your first year on the job."
It's a job he says he loves too. Even the more difficult physical aspects of flat-bedding, like loading and tarping, are challenges that he enjoys.
"This is the most fun I've ever had working before, other than the military," Brabner says. "It is a challenge, but I enjoy the challenge."
Brabner recently transferred from OTR to regional routes while he builds a final, permanent home for himself and his wife, something they missed during his many transient years of military assignments. As soon as it's finished though, he plans to get back over the road and finish saving for his own truck. He's looking forward to becoming an owner-operator and enjoying many more years of driving success.
The Trucking Top Rookie award winner will receive $10,000 cash and a package of prizes. The remaining eight finalists will each receive $1,000 cash as well as additional prizes.
The winner will be announced during a ceremony on the America Strong stage in Hall "A" at 1:30 p.m. Friday, Aug. 24 at the Great American Trucking Show at the Kay Bailey Hutchison Convention Center in Dallas.
The full list of finalist includes:
James Bell – Stevensville, Montana; Jim Palmer Trucking; Sage Truck Driving School
Adam Cobb – Deltona, Florida; Celadon Trucking; Sage Truck Driving School
Matthew Donahue – Weedsport, New York; H.O. Wolding; National Tractor Trailer School
David Drummond – Philadelphia, Pennsylvania; Melton Truck Lines; Allstate Careers
Terrence Goodau – Springfield, Missouri; Tri-State Motor Transit; Midwest Technical Institute
Larry Maser – McKinney, Texas; Stevens Transport; Stevens Training Academy
Darrell Philpott – Martinsville, Virginia; Epes Transportation Systems; CDS Tractor Trailer Training
Quinton Ward – Westville, Florida; Werner Enterprises; U.S Truck Driving School
Partnering with Truckers News in the search for Trucking's Top Rookie are the three national organizations overseeing truck driver training:
Commercial Vehicle Training Association
National Association of Publicly Funded Truck Driving Schools
Professional Truck Driver Institute
Sponsors giving prizes to the finalists include:
RoadPro Family of Brands
Cobra
Rand McNally
The Trucking's Top Rookie winner receives:
$10,000 cash
More than $1,000 worth of DAS Products merchandise including a BlueParrott B450XT headset, RoadPro sauce pan, Garmin Speak, Rand McNally tablet with GPS and dash cam, Plantronics earbuds, Black Canyon Hi-Impact gloves, Black Canyon canvas backpack, and a Road King 5640 CB radio and mic
ClearDryve 200 two-in-one headset and stereo headphones and a Deluxe Motor Carriers' Road Atlas from Rand McNally
A 29 LX MAX CB radio and a Dash 2308 Super HD Dash Cam with iRadar from Cobra
A custom plaque from Award Company of America
Feature story in Truckers News
Interview on Red Eye Radio Network with Eric Harley
The other eight finalists will receive:
$1,000 cash
$100 worth of DAS Products merchandise
ClearDryve 200 two-in-one headset and stereo headphones from Rand McNally
A Dash 2308 Super HD Dash Cam with iRadar from Cobra
A custom plaque from Award Company of America
Recognizing the top rookie driver was the idea of the late Mike O'Connell, who was formerly the executive director of the Commercial Vehicle Training Association. He believed that honoring a top rookie driver helped show new drivers they are appreciated by the trucking industry.