Editor's Note: Between now and Friday, Aug. 24, Truckers News will profile the finalists in its annual Mike O'Connell Trucking's Top Rookie Award, which will be presented at the Great American Trucking Show in Dallas. The awards ceremony will be held at 1:30 p.m. Friday, Aug. 24 on the America Stong Stage in Hall "A" of the Kay Bailey Hutchison Convention Center.
___
Not many drivers can say that watching football is what led to their job, but in Larry Maser's case, it's the truth. A resident of McKinney, Texas, Maser has never missed a single one of his youngest son's football games, and he didn't plan to let that change when his son joined the team at Fort Hays State University in Kansas. As he drove the nearly eight hours to watch his son play, he'd admire the trucks along the highway—particularly, he says, the ones from Stevens Transport.
"To me, they always had the best equipment on the road," Maser says. "I'd tell my other son, 'Someday, I'm going to drive for them. I'm going to drive this highway in one of those trucks.'"
That goal became a reality this year when Maser graduated from Dallas-based Stevens Training Academy in January and got behind the wheel of a Stevens Transport company truck. Since then, he's leased his own 2019 Kenworth T680 and has put more than 50,000 miles on it while hauling a variety of freight across 46 states.
Maser's hard work and determination have not gone unnoticed at Stevens, where he was recognized as the Grad Driver of the Month shortly after his graduation from driving school. More recently, Maser was announced as a finalist for the Mike O'Connell Trucking's Top Rookie Award presented by Truckers News.
Maser said just being nominated was an honor, to say nothing of being chosen as a finalist.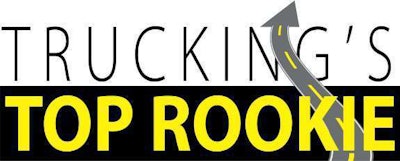 "I was actually surprised I got nominated, only because I'm pretty quiet," Maser says. "You know, they give me my stuff to do, and I do it. I make sure to do it on time, and I do it in the most efficient manner. I'm kind of surprised that a company as big as Stevens noticed that, which is another reason why I love this company."
Maser says becoming a truck driver has shown him the need to educate the driving public about truck drivers. He says that one of the most important things that he learned in training was how to drive safely and protect those around him on the road. Now, he says, it's time for government agencies to make sure that understanding goes both ways.
"The public needs to be educated that truck drivers are professionals and there is more to truck driving than just sitting behind the wheel and driving," Maser says. "They need to be educated about how to share the road with the trucks."
Although he's had a variety of jobs over the last 30 years (everything from serving in the Army to working as a plumber), Maser says truck driving is the last job he'll have and the career he plans to retire from. His wife supports his plan to stay out on the road so he can save money for their retirement, although he says he'd eventually like to take a regional or local route so he can be home with her more often.
When he isn't on the road, Maser says he enjoys playing golf with his friends and, of course, watching his son play football. Maser says he's working with his supervisor at Stevens to make sure he'll make it to all the games this season.
The Trucking Top Rookie award winner will receive $10,000 cash and a package of prizes. The remaining eight finalists will each receive $1,000 cash as well as additional prizes.
The winner will be announced during a ceremony on the America Strong stage in Hall "A" at 1:30 p.m. Friday, Aug. 24 at the Great American Trucking Show at the Kay Bailey Hutchison Convention Center in Dallas.
The full list of finalist includes:
James Bell – Stevensville, Montana; Jim Palmer Trucking; Sage Truck Driving School
Platt Brabner – Coupland, Texas; TMC Transportation; Roadmaster Drivers School
Adam Cobb – Deltona, Florida; Celadon Trucking; Sage Truck Driving School
Matthew Donahue – Weedsport, New York; H.O. Wolding; National Tractor Trailer School
David Drummond – Philadelphia, Pennsylvania; Melton Truck Lines; Allstate Careers
Terrence Goodau – Springfield, Missouri; Tri-State Motor Transit; Midwest Technical Institute
Darrell Philpott – Martinsville, Virginia; Epes Transportation Systems; CDS Tractor Trailer Training
Quinton Ward – Westville, Florida; Werner Enterprises; U.S Truck Driving School
Partnering with Truckers News in the search for Trucking's Top Rookie are the three national organizations overseeing truck driver training:
Commercial Vehicle Training Association
National Association of Publicly Funded Truck Driving Schools
Professional Truck Driver Institute
Sponsors giving prizes to the finalists include:
RoadPro Family of Brands
Cobra
Rand McNally
The Trucking's Top Rookie winner receives:
$10,000 cash
More than $1,000 worth of DAS Products merchandise including a BlueParrott B450XT headset, RoadPro sauce pan, Garmin Speak, Rand McNally tablet with GPS and dash cam, Plantronics earbuds, Black Canyon Hi-Impact gloves, Black Canyon canvas backpack, and a Road King 5640 CB radio and mic
ClearDryve 200 two-in-one headset and stereo headphones and a Deluxe Motor Carriers' Road Atlas from Rand McNally
A 29 LX MAX CB radio and a Dash 2308 Super HD Dash Cam with iRadar from Cobra
A custom plaque from Award Company of America
Feature story in Truckers News
Interview on Red Eye Radio Network with Eric Harley
The other eight finalists will receive:
$1,000 cash
$100 worth of DAS Products merchandise
ClearDryve 200 two-in-one headset and stereo headphones from Rand McNally
A Dash 2308 Super HD Dash Cam with iRadar from Cobra
A custom plaque from Award Company of America
Recognizing the top rookie driver was the idea of the late Mike O'Connell, who was formerly the executive director of the Commercial Vehicle Training Association. He believed that honoring a top rookie driver helped show new drivers they are appreciated by the trucking industry.