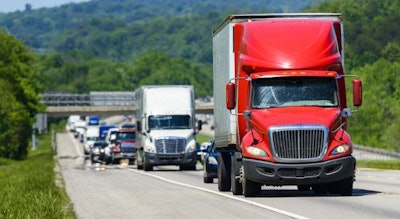 Voting is now open in Pilot Flying J's fifth annual Road Warrior contest.
Twelve drivers have been nominated, and voting runs through Wednesday, Aug. 22 at 7:59 a.m. The winner receives a $10,000 grand prize. The second place winner receives $5,000, and the third place driver receives $2,500. The remaining nine finalists each receive $1,000.
You can cast your votes online.
This year's candidates include: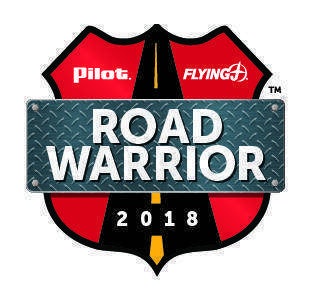 Adam Cook, Oklahoma: Cook is an Army Veteran Combat Medic and became a professional driver to help build a better life for his family. He has worked hard to help his wife with a health scare and she says he "Never gives up, he never slacks off, and he never complains."
Alton Jackson, Texas: Jackson is an Ambassador of the Road for Melton Truck Lines, a 2 million mile driver, and a Road Trainer. "Alton is more than willing to pass on his valuable knowledge to others. His exceptional safety record and extensive experience in the industry has not only contributed to Melton's success, but to others success out on the road," said a representative of Melton Truck Lines.
Bob Lloyd, Michigan: Loyd has been a professional driver for over 47 years. He is involved in numerous trucking charities and even helped found "Truckers United for Charities." He also volunteers his time serving on mission trips.
Chris Morris, Ohio: In addition to his career as a professional driver, Morris also drives for the military in the Ohio Army National Guard. He has four children and another due in the fall. His wife says he is "A hero to his family and our country."
Christopher Dowdy, Tennessee: Dowdy has over 2.5 million accident-free miles in more than 20 years of driving. He started "Truckers for Hope" as a way to give back to children at St. Jude and educate the public on how to drive safely around semi-trucks.
Dawn Stanton, Alabama: Stanton has been a professional driver for 16 years and is also a first responder. She works hard to help support local fire departments, food banks and Cops for Tots.
Gary Buchs, Illinois: Buchs is an owner-operator leased to Landstar. He has been driving for more than 25 years and has over two million accident-free miles. He always promotes safety. More than 10,000 driver education students throughout the state of Illinois have been touched by his presentations at youth events. He has worked closely with local and state police, the Illinois Department of Transportation and several companies to provide driver education.
Gary Martin, California: Martin is a contractor for FedEx Ground and has over 35 years of over the road accident-free driving. He is a four-time California state truck driving champion, manages 10 over the road tractors and is involved with a number of charities.
James Monclair Louisiana: After achieving over 1 million miles with Melton Truck Lines, Monclair became an Ambassador of the Road for Melton and serves as a mentor to other drivers. He is a veteran and volunteers to drive his wrapped veteran truck in the Tulsa Veterans Day Parade each year. He also makes an annual trip to St. Jude Children's Hospital to volunteer and spend Survivors Day with his daughter.
Jim Klemm, Louisiana: Klemm drives hazardous chemicals all over the country and still finds time to support his six children. Jim once saved a woman's life who he found on the side of the road and pinned under her vehicle. "He's strong, brave, loyal, generous & kind," his wife said. "He's as hardworking as they come!"
Michael Fisher, Massachusetts: Fletcher has almost 5 million miles on the road and is a Vietnam veteran, having served in the Army. He has helped fellow truck drivers and others on the road. In 2016, he saved two school buses full of children from crashing into him by accelerating his Freightliner down the off-ramp and into the grass to avoid a collision.
Victoria Andrade Texas: When her parents passed away over 30 years ago, Andrade made it her mission to turn her job at UPS into a career so that she could provide for her eight siblings. She began working at UPS as a car washer and is now a feeder driver. Her family is proud of her for being "a fierce woman and an outstanding employee for UPS."