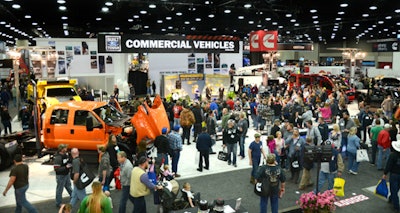 Louisville, Kentucky, normally best known for fast horses and smooth bourbon, becomes the epicenter of the American trucking industry the rest of this week.
Starting Thursday, the Mid-America Trucking Show opens its 47th annual event at the Kentucky Expo Center.
Between Thursday and Saturday, MATS is expected to attract more than 70,000 visitors who will wander amongst more than 1,000 exhibitor booths spread out over 1 million square feet of space. Guests will also have the opportunity to learn from presenters at a variety of seminars and enjoy music from a slate of country singers, including a free concert Friday after the show.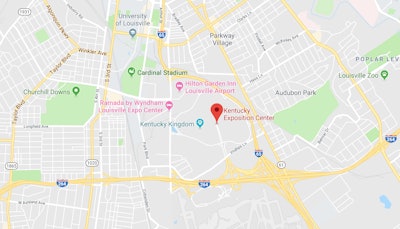 The Basics
MATS is open:
Thursday 10 a.m. to 1 p.m. for VIP preview
Thursday 1 p.m. to 6 p.m.
Friday 10 a.m. to 6 p.m.
Saturday 9 a.m. to 4 p.m.
If you haven't preregistered, admission is $10.
See each day's complete schedule.
One of the easiest ways to keep track of everything happening at MATS is to use the app. It's available for both Android and iOS devices.
The Trucks
One of the true highlights of MATS is the 30th annual PKY Truck Beauty Contest. Show trucks will be on display throughout MATS in Lot J behind the West Wing of the expo center. There will be a light show Thursday night until 10 p.m., and the contest wraps up with the truck parade exit at 5 p.m. Saturday. Awards are handed out Saturday at 10 a.m. in the South Wing Conference Room B101.
The Music
MATS is a good place to hear some good music. There's a free concert Friday and plenty of performances at the Red Eye Radio Booth during the show.
Country singer-songwriter Michael Ray and country trio Runaway June perform in this year's free concert sponsored by Mobil Delvac. The concert will be held in the Exposition Center's Freedom Hall Friday. Doors open at 6:30 p.m. and the concert begins at 7 p.m. The concert is free. Attendees must pick up a complimentary ticket at the Mobil Delvac Booth #18160 in the North Wing during show hours.
Ray won the first season of the music competition show "The Next: Fame Is at Your Doorstep." Ray released his second album, "Amos," in June 2018. The album was named after his grandfather, who inspired his passion for music.
Runaway June is comprised of lead singer and guitarist Naomi Cooke, singer and mandolin player Hannah Mulholland, and singer and guitarist Jennifer Wayne. They released their self-titled debut album in September 2018.
At the Red Eye Radio booth Thursday will be Jayne Denham, Jessie G, and Bridgette Tatum. They will each perform. On Friday, Dustin Collins and Taylor Barker will also perform. Finishing out the show on Saturday are Olivia Ooms and Tony Justice will perform.
The Seminars
As enjoyable as MATS is, it's also a great place at which to learn more about trucking industry issues and concerns. There are programs all three days of the show in room B-104 in the South Wing Lobby.
DOT Secretary Elaine Chao will deliver what is being called "the keynote address" Friday at 1 p.m.
Highlights of this year's show include:
Top 5 Trends Driving the Trucking Industry, Thursday at 11:15 a.m.
FMCSA Session: Legislatively Mandated Actions Update, Thursday at 3 p.m.
Inside the Mind of a Shipper: What shippers are doing to help trucking companies, Friday at 10 a.m.
How Untreated Driver Health Conditions Cost Drivers and the Industry Billions of Dollars Each Year, Friday at 1:45 p.m.
How To Start a Trucking Company, Saturday at 11:15 a.m.
FMCSA Session: Electronic Logging Devices Update, Saturday at 1:45 p.m.
See the full seminar schedule.
The Exhibitors
More than 1,000 exhibitors are expected at MATS. They'll show off everything from trucks to parts and accessories to apps and other technologies. Also with booths in the more than 1 million square feet of exhibit space will be a variety of trucker support organizations and groups and businesses focused on driver health and wellness. Fleets and their recruiters will be there if you're looking to make a job change.
The Truck Parking
MATS offers 30 acres of free truck parking about a mile from the Exo Center. Sponsored by TA Petro, TA Express and Uber Freight, the Truck Parking for Class 7 and 8 trucks offers regular shuttles to and from the convention center, hot showers, portable restrooms, food, and entertainment.
TA Petro sponsors the shower trailer. You can register for your shower(s) at their booth at the show. It also has truck repairs and service available 9 a.m. to 5 p.m. Thursday and Friday and 9 a.m. to noon Saturday.
Uber Freight hosts Tony Justice in concert, an open mic night, and a food truck with free food (while supplies last).
Thursday
6 p.m. – Food truck Pollo – A Gourmet Chicken Joint
Friday
8 a.m. – Food truck – La Chandeleur
Saturday
5 p.m. – Food truck Pollo
5:30 p.m. – Open Mic Night hosted by Tony Justice (Black Rock Grille and Boss Hog BBQ)
7 p.m. – Food Truck – Hi-Five Doughnuts
7:30 p.m. – Tony Justice in concert
The Women's Program
Women in Trucking offers its 10th annual Salute to Women Drivers Saturday from 9 a.m. to 2 p.m.