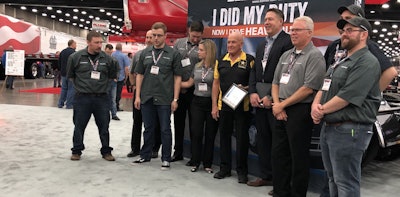 Belmor, a manufacturer of heavy-duty truck accessories, recognized Vietnam veteran and truck driver Richard Nardone as the winner of its "I Did My Duty, Now I Drive Heavy Duty" essay contest during a ceremony at the Mid-America Trucking Show last week. Nardone won a free MATS trip for winning the contest.
Nardone was a U.S. Army sergeant and served from 1962-1969, spending seven years in Vietnam before transitioning into trucking.
During his time in the military, he was a part of a special operations assault team, where he learned to operate unsupervised. This would make trucking a good fit for him once he returned stateside.
"My first four years in Vietnam I was by myself before I got my team. During that time, I enjoyed the solitude. I enjoyed being by myself. I enjoyed being able to make my own decisions. Even though my orders came from Washington, I could stand and say okay, this is what they want me to do, this is my mission, but how am I going to do it? How I did it was up to me, my choice," Nardone said.
Trucking provided him a similar situation in that he wouldn't have a boss looking over his shoulder and he could make his own decisions. Nardone didn't immediately consider trucking after he was discharged from the military, however. Rather, he happened upon it. He'd been instructed by his superior to not travel all the way back to his then-home of northern New York because he could be recalled for up to 90 days. So Nardone landed in Michigan, and that was where he spotted an enticing cabover.
"One day I was walking around and I walked by this truck dealership and I saw this 1965 Mack cabover with a coffin sleeper, and I liked the looks of it. I walked in, talked to the salesmen, we went out for a test drive. We went back to the dealership, I paid for it, drove out, and that was it. I've been doing it ever since," Nardone said of trucking.
Nardone, from Kalamazoo, Michigan, was previously an owner-operator before he semi-retired in 2015 after breaking his ankle. He now drives three nights a week as a company driver for Erickson's Flooring. He's been trucking for 50 years and has driven over seven million miles without an accident.