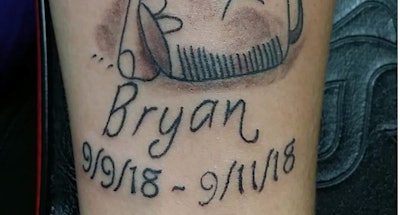 Tattoos can be, for many truckers, especially public statements about exceedingly personal things. Births. Deaths. Monumental life changes. All can be seen on the bodies of many drivers.
For Ann Simental, an owner-operator at Bare Bones Trucking, the loss of a newborn grandson was captured in her tattoo. She says, "I had this done just a few weeks after my grandson passed. He never got to go trucking with me as I promised him. So this is my way of taking him with me."
Marty Zapata, a company driver for GulfMark Energy, Inc. also has a reminder of a lost loved one. He says, "I got my Guardian Angel on my left forearm a month after my Mom passed away. She was always my guardian, and now she will forever be my Guardian Angel."
Dana Rankin's large Asian-themed tattoo is all about life's changes. A company driver for Roehl Transport, Rankin says, "I've always had a fascination with Asian art. Koi fish symbolize good fortune, the dragonfly symbolizes transformation, adaptability and self-realization and the water represents life. This tattoo was done at a time when my life was drastically changing."
Becky Austin's large, floral tattoo, reminds her of the living, of people she has lost, and of something not to do. An owner-operator for CFI, she says, "Rose on my hand reminds me to not be stupid, the dream catcher is colors of my daughter's birthday, wonder twins mom is my daughter and stepdaughter, cherry blossoms have seven green leaves standing for people in my life I've lost, mom is the day I lost my mom two years ago."
And Darren Marin wears his personal and spiritual belief on his arm. "I live by the belief of meeting on the level. In my personal and business life, I find it a true blessing to treat people right and gain friendships as well. To me, this is the most important tenet in Freemasonry," says the company driver for Kamps Propane.
You can see all of the trucker tattoos that have been submitted thus far, and you can Show Us Your (own) Ink as well.