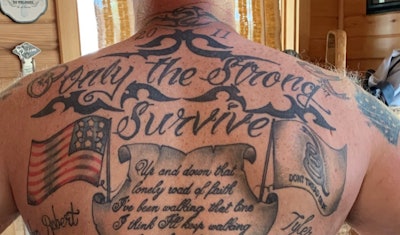 While tattoos are primarily to be seen by others, they can be incredibly personal and rather telling.
A study by researchers at Anglia Ruskin University in England found folks with tattoos were significantly different on three intriguing traits:
They are extroverted
They seek new experiences
They are unique
It's hard not to see those traits in some of the tattoos shared by truckers.
Owner-operator Farrah Green shows off her uniqueness with "My Woodie Gremlin Owl, memorializing my best friend, my cat MiMi."
Rocky Willingham, an owner-operator leased to Jim Palmer Trucking, has two tattoos about some rather extroverted family members. He is proud of all of them. He writes: "All about the family. My dad was a combat SeaBee. He did 3 tours in Vietnam. We got to live on Midway Island after his tours were over. He was my hero. The Seabee tattoo is in honor of him. The other tattoo is in remembrance of my Dawson Uncles from Leighton, Alabama who were known as the Dawson Gang in The State Line Mob. The state line between Northwest Alabama and Tennessee. Notoriously known for moonshine running, gambling, etc…. books, news articles, and movies have mentioned them or alluded to them. To others they were outlaws to be feared to me they were men who were taking care of their families. I will always remember their big smiles and how they loved family. My Uncles and Dad taught me about hard work, loyalty, and love of family."
And, talk about being unique and extroverted, company driver Roger Reinhart found a one-of-a-kind way to show off an amazingly personal experience and memorialize lost loved ones. He writes, "All started with a battle of cancer in 2010/11 then progressed with losing my family and my dream job all in the same year of 2011. Then cancer came back in 2017 then kicked its presence out of my body once again. Now still in remission today!!! The banner has Kid Rock lyrics in it that I live by today!!!"
See all of the tattoos that truckers have shared.
And, Show Us YOUR Ink!