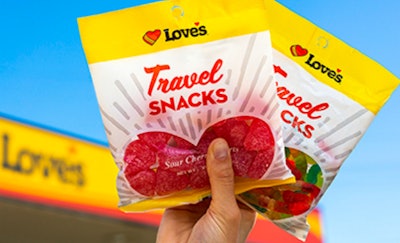 A leading travel center company wants to make life a little sweeter for truckers and others on America's interstates.
Love's Travel Stops & Country Stores, earlier this week introduced its own line of candy. Love's Travel Snacks, which launched Wednesday, June 12 includes:
gummy bears, worms, and sour worms
orange slices
starlight mints
French burnt peanuts
peach rings
cherry sours
assorted fruit slices
Each bag sells for $1.69 and beginning June 25, the candies will sell for two bags for $3.
"This line (of candy) provides our customers good value, innovative flavors and offers they can't find anywhere else," said Wade Hollis, senior manager of category buyers for merchandise at Love's. "These products further define our commitment to highway hospitality and being the one-stop shop for travel needs."
Distributing its own candy allows Love's to better ensure store aisles remain stocked for customers who need to quickly get back on the road, according to a statement from the company.
Love's says additional snacks will be launched in the future.