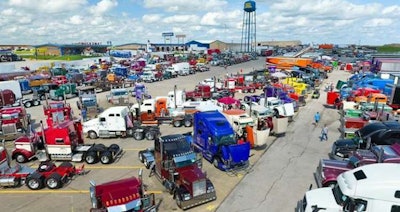 Walcott, Iowa is a modest city of just a bit more than 1,600 souls, but late next week it will swell to many times that number and those folks will be there to celebrate the mainstay of the American trucking industry: it's drivers.
The 40th annual Walcott Truckers Jamboree opens Thursday, July 11 and wraps up Saturday, July 13 at the Iowa 80 Truckstop (Exit 284 on Interstate 80). During those three days, visitors to what's called the World's Largest Truckstop will be treated to:
Antique truck display
daily country music concerts
Iowa pork chop cookout
over 150 exhibits
Trucker Olympics
carnival games
fireworks displays Thursday and Friday nights at dark
a 100th birthday party for two trucks at the Iowa 80 Trucking Museum
pet contest
Admission and parking are free, and the jamboree is meant to be a big "thank you" to working truckers. Shuttles will be provided from the parking area to the event grounds courtesy of Sherwin Williams.
"The Walcott Truckers Jamboree is truly an event about the professional driver," said Heather DeBaillie, Iowa 80's vice president of marketing. "We appreciate the important job they do in keeping America rolling and we think they should be celebrated."
No celebration is completed without a rockin' playlist, and the Walcott Jamboree knows how put one together. The musical lineup includes:
Thursday, July 11
The Davisson Brothers Band headlines the day's concert. Opening for the Davisson Brothers at 5 p.m. is local favorite Dani Lynn Howe and Band.
Friday, July 12
CMA Award winners Sawyer Brown will rock the jamboree Friday. A singer/songwriter who's a favorite of truckers, Lindsay Lawler, opens for Sawyer Brown at 5 p.m. She's joined by Natalie Stovall.
Saturday, July 13
The jamboree's music wraps up in a big way with the return of the Kentucky Headhunters. The music begins at 1 p.m.
"All three concerts will be high energy and lots of fun," said DeBaillie. "This line up is not to be missed!"
Another fixture of the Jamboree is a birthday party for a truck in the Iowa 80 Trucking Museum. This year there will be celebrations for two trucks: a 1919 International and a 1919 Pierce Arrow. Instead of a birthday cake, there will be doughnuts and crescents from Tiffiny's Tipton Bakery.
The most up to date jamboree information can be found online.