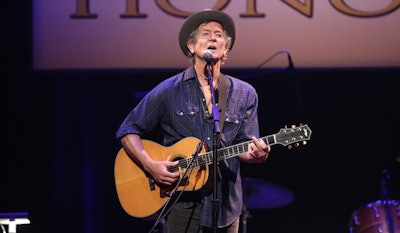 Singer-songwriter Rodney Crowell has recruited some of the top names in music to collaborate on his latest album, "Texas," due out Aug. 15.
Making an appearance on the 11-track album are Willie Nelson, Ringo Starr, Lyle Lovett, Ronnie Dunn, Billy F. Gibbons, Randy Rogers, Vince Gill, Lee Ann Womack, and Steve Earle.
The album features Texas-centric songs where "twangy two-steppers stand alongside hard-driving blues rockers and dusty cowboy ballads, sharing time with windblown prairie gems, quirky spoken-word compositions, and historically-charged singalongs," according to the album announcement.
"For the last few years, I'd been writing Texas-centric songs and revisiting some of my tunes from as far back as the mid-seventies," Crowell said. "Last year, I started referring to the collection of songs as the 'Texas' album."
Crowell was inducted into the Texas Country Music Hall of Fame in Carthage, Texas, today Aug. 10. His "Texas" album is available for preorder on Amazon and Apple Music.
The album's track list:
1. Flatbed Hillbillies with Lee Ann Womack and Andy Rogers
2. Caw Caw Blues with Vince Gill
3. 56 Fury with Billy F. Gibbons
4. Deep in the Heart of Uncertain Texas with Ronnie Dunn, Willie Nelson, and Lee Ann Womack
5. You're Only Happy When You're Miserable with Ringo Starr
6. I'll Show Me
7. What You Gonna Do Now with Lyle Lovett
8. The Border
9. Treetop Slim and Billy Lowgrass
10. Brown & Root, Brown & Root with Steve Earle
11. Texas Drought Part 1