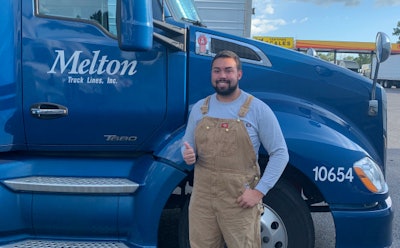 What fills the cab of an over the road truck driver is as varied as the driver corps itself. For some, it's country music, while others may prefer classic rock, rap, or metal. Other drivers will listen to talk shows or sports on satellite radio. For a few, the sound of the highway is sufficient company.
For Matthew Hepburn, the cab of the Kenworth T680 he drives for Melton Truck Lines is usually filled with audiobooks. The books of choice for the 27-year-old flatbedder from North Carolina are usually ones on business topics or self-improvement, fitting for the ex-Marine who is serious about a career in trucking.
His earnest approach to his job earned Hepburn a nomination as one of 11 finalists for the 2019 Mike O'Connell Trucking's Top Rookie Award. The winner will be announced Friday afternoon at the Great American Trucking Show in Dallas.
Hepburn spent eight years in the Marines. During his first four years, he was an aviation engine mechanic. When he signed on for four more, Hepburn said he sought a career change and became an artilleryman.
When those four years passed, Hepburn said he began casting about for a career the provide financial stability and opportunities to grow. He had a house and cars but "no transferable skills" after his days in uniform.
"I looked around to see what I could do," said Hepburn. What he saw was an opportunity to get his CDL at Miller-Motte College in Jacksonville, North Carolina, and have opportunities to branch out once in the trucking industry. He used his GI benefits, got his training and hooked up with Melton after graduation this past January.
Hepburn said he enjoys driving and flatbed work as well.
"I've already been all over the country," which Hepburn said has given him not just the geography, but the people too. "Trucking has provided me with a good income and a new appreciation of people from other states, and the country's landscape. I did not realize how beautiful our country is and am thankful to have seen and witnessed much of it."
Hepburn also appreciates being a flatbed driver.
"With flatbed work, I have the challenge of safely and correctly securing my freight," he said. "That keeps me on my toes, and I like the physical nature of the work. I like to be physically challenged and at the end of the day know that I worked hard. I know that I am enjoying my career and flatbedding and look forward to growing in that."
His supervisors at Melton appreciate Hepburn's outlook and hard work.
Daniel Sibert is Hepburn's driver manager. He said Hepburn is attentive to details, takes the time to read the Load Assignment and complies with all special needs. "If Matt needs clarification, he brings this to my attention immediately and before the issue becomes a crisis," said Sibert in Hepburn's nomination.
Should things go wrong, Sibert said Hepburn handles the situation well. "When problems occur at customers, Matt is even-tempered, identifies the concern, reaches out for assistance, and resolves the problem. This is worthy of note since he does not bring drama causing anxiety for the customer. Have a problem, fix the problem, roll on."
Darla Shaw is Hepburn's driver relations coordinator. She said of him, "I can always count on Matthew to communicate with a calm and respectful demeanor. He's all about getting the job done and done right."
The Mike O'Connell Award for Trucking's Top Rookie will be presented at the Great American Trucking Show Friday, Aug. 23 at 2 p.m. on the Truckers News Stage in Hall "A" of the Kay Bailey Hutchison Convention Center in Dallas.
The winner receives $10,000. They also receive a prize package worth $530 from the RoadPro Family of Brands, which includes a RoadKing Noise Cancelling Bluetooth Headset, LUMAGEAR Headlamp, PowerDrive 1000 Watt Bluetooth Pure Sine Wave Power Inverter, BlackCanyon 64 oz. water bottle, BlackCanyon Large Duffle Bag, MobileSpec Qi Wireless Charging Mount, and RoadPro 12 Volt Soft Side Cooler. The winner also receives a ClearDryve 200, Rand McNally's premium noise-canceling 2-in-1 headphones with removable earpieces and adjustable boom mic and the current Deluxe Motor Carriers' Road Atlas.
The other 10 finalists receive $1,000, a RoadPro Family of Brands MobileSpec Qi Charger, and Rand McNally's ClearDryve 200.
The Top Rookie award is presented by Truckers News with the support of the Commercial Vehicle Training Association, National Association Of Publicly Funded Truck Driving Schools, and Professional Truck Driver Institute.
Recognizing the top rookie driver was the idea of the late Mike O'Connell, who was formerly the executive director of the Commercial Vehicle Training Association. The award is named in his honor. He believed that honoring a top rookie driver helped show new drivers they are appreciated by the trucking industry.