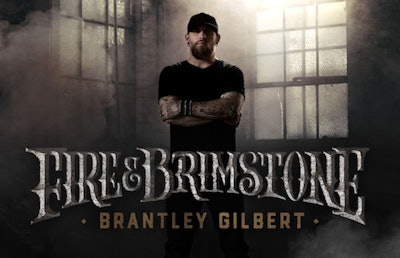 Brantley Gilbert's fifth studio album "Fire & Brimstone" is now available and Gilbert says the album is reflective of his life as a husband, a father, and a country music singer-songwriter.
All 15 songs on the album were written or co-written by Gilbert, who says he took a freehand approach to recording this album.
"I know it sounds crazy, but never did I once bring a lyric sheet into the studio with me," Gilbert said in a press release. "I feel like I am at this stage in my career where I am confident enough to let the music take me where it's meant to go, no matter how down and dirty that might be. There is no doubt that this is the album that allowed me to grow up musically."
The album is available on Amazon and Apple Music.
The album's track list:
1. Fire't Up
2. Not Like Us
3. Welcome to Hazeville
4. What Happens in a Small Town
5. She Ain't Home
6. Lost Soul's Prayer
7. Tough Town
8. Fire & Brimstone
9. Laid Back Ride
10. Bad Boy
11. New Money
12. Breaks Down
13. Man of Steel
14. Never Gonna Be Alone
15. Man That Hung the Moon