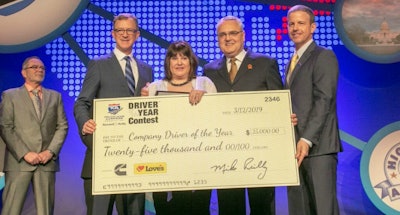 The search continues for the two best truckers in the U.S. and Canada, one company driver and one owner-operator.
The Truckload Carriers Association and Truckers News seek the Company Driver of the Year. Our sister publication, Overdrive partners with TCA to locate the Owner-Operator of the Year.
Both annual contests are sponsored by Love's Travel Stops and Cummins Inc.
Nominations for Company Driver of the Year may be made online between now and Nov. 15.
Three finalists for each contest will be announced in January. The winners will be recognized at TCA's 2020 Annual Convention, March 1-3 at the Gaylord Palms in Kissimmee, Florida.
The top company driver and owner-operator each win $25,000 and the runners up in both contests get $2,500.
The top company driver will be chosen based on their ability to operate in a safe manner on the public highways, efforts to enhance the public image of the trucking industry, and positive contributions to the community in which they live. To qualify, a company driver must:
Be nominated by the motor carrier by which they are employed

Have safely driven one million consecutive, accident-free miles.

Have been employed by their current trucking company employer for the past three years.