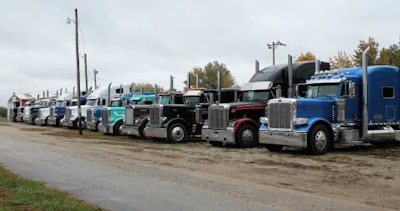 Once again, truckers stepped up to help and encourage one of their own.
On Saturday, Oct. 26, truck drivers from around Tollesboro, Kentucky gathered for a poker run to benefit a local trucker Tony Corns, who has been diagnosed with Bergers Disease, a kidney disease that requires dialysis three times a week, and is no longer able to drive.
Over 60 trucks participated in the event, which began at the Tollesboro Lions Club. Stops along the way included Tully Trucking and Fannin Trucking in Orangeburg, Hord Trucking in Flemingsburg, and Pollitt Trucking in Tollesboro. On the way back to the final stop the drivers did a drive-by of Corns' house, honking and offering signs of encouragement.
After the ride, there was a dinner and benefit auction. Awards were given including a Peoples Choice and one for the truck with the most miles. The truck with the most miles was a 1998 Peterbilt, originally driven by Jackie McCann, and now driven by his son and grandson, David Ginn and David Ginn Jr. The Peterbilt has 2,042,289 miles on it.
The benefit was arranged by Rips Farm Center in Tollesboro.
Tollesboro is located about 75 miles southeast of Cincinnati, Ohio.