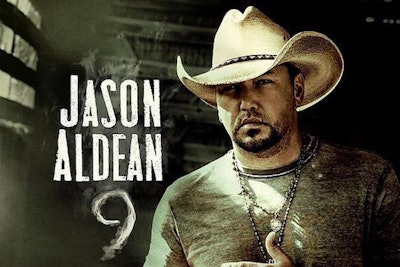 Nine is a lucky number for country singer-songwriter Jason Aldean. His baseball number growing up was "9" and it's always been his lucky number, the star says. Now it's also the name of his upcoming ninth album, due out Nov. 22.
"Early on I always thought if we ever got to make nine albums, I'm going to call it '9,'" Aldean said in a press release. "I remember cutting the first album and thinking 'that's forever away,' and now here we are. I don't know, it's really special we made it this far – so, it's more for me than anybody else – but, it means a lot."
The album was produced by Michael Knox, who has produced all of Aldean's albums.
The album is available for preorder from Amazon and will stream on Apple Music Nov. 22.
The album's track list:
1. Tattoos and Tequila
2. Blame It On You
3. Champagne Town
4. Some Things You Don't Forget
5. Got What I got
6. Keeping It Small Town
7. Camouflage Hat
8. Came Here To Drink
9. We Back
10. Dirt We Were Raised On
11. I Don't Drink Anymore
12. Cowboy Killer
13. One For The Road
14. Talk About Georgia
15. The Same Way
16. She Likes It