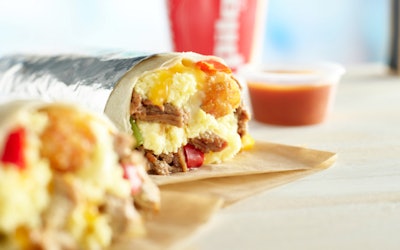 Pilot Company is introducing Jumbo Breakfast Burritos at more than 300 of its Pilot and Flying J travel centers.
With options in both smoked beef brisket and pulled chicken, the burritos also include scrambled egg, tater tots, a blend of cheddar & Monterey jack cheese, and fire-roasted peppers and onions.
Starting Wednesday, Feb. 26, Pilot Company is also bringing back its fish sandwich and entrée to 270 Pilot and Flying J locations. This item will be available throughout the Lenten season until mid-April, while supplies last.
Both of these news items apply to the ongoing 25% off deli food exclusive pro-driver deal through March 1. To receive the offer, pro drivers must download and use the Pilot Flying J app, which has also undergone some major updates as well.