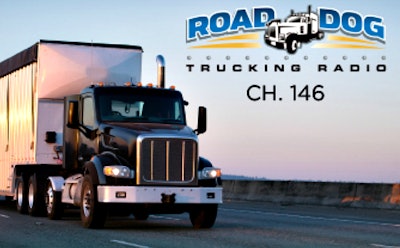 As a service to truck drivers on the front lines of keeping America moving, SiriusXM announces Road Dog Trucking Radio (channel 146) is available for free on both active and inactive SiriusXM radios through Sunday, May 31.
A statement from the broadcaster says, "SiriusXM's Road Dog Trucking Radio hosts — including Dave Nemo, Kevin Rutherford, Mark Willis, KC Phillips, Mark Reddig, Tim Ridley, Leah Shaver, Ellen Voie, Dan Ronan, George Noory, Timothy Dooner, Claire Marie and Jimmy Mac — serve as constant companions to America's professional drivers while providing critical news, information, and entertainment designed to lighten the load."
Road Dog Trucking Radio, channel 146, can be heard wherever truckers tune in – on SiriusXM radios, on the SiriusXM app, and at home on a variety of connected devices and speakers and is available to subscribers nationwide and to everyone – including anyone who is not already a SiriusXM subscriber – as part of SiriusXM's free streaming access period through May 31.
For more information and to start listening, visit: SiriusXM.com/streamfree.
According to SiriusXM, "Long haul truckers are part of the invisible workforce keeping the United States and Canadian economies going during the COVID-19 crisis. In doing so, they are putting themselves at risk at truck stops, rest areas, and throughout our countries. SiriusXM is proud to serve millions with this free service for the month of May."