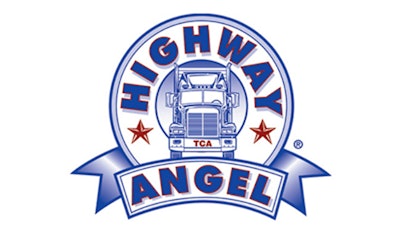 A Michigan trucker who "decided to take the scenic route" was honored recently for saving a motorist from a burning vehicle.
The Truckload Carriers Association has named Chad Stoinski, from Alpena, Michigan a Highway Angel, for aiding driver trapped in his burning vehicle earlier this year.
The TCS explains:
It was early February, and Stoinski was on his way to Fargo, North Dakota. It was about 6:30 p.m. and he was driving through South Dakota near the Rosebud Indian Reservation. This was a departure from his usual route. "I normally jump up to (Interstate) 90, but for some odd reason, I decided to take the scenic route," he quipped. "The area is pretty desolate, not much out there."
As he was making his way around a bend, Stoinski noticed a vehicle fire up ahead on the right shoulder. "Since I was hauling hazmat, I drove a safe distance past the vehicle." He then set his flares, grabbed a flashlight and fire extinguisher, and hurried back to the vehicle. When he reached the vehicle, he quickly worked to keep the flames from spreading.
The driver was barely conscious. Acting swiftly, Stoinski broke the window and then found that the driver's seat belt was jammed in the carrier. He used a rescue tool he carries with him and freed the driver. "He was kinda in and out of it." recalled Stoinski. "There was a lot of noxious fumes from burning electrical and rubber." He got the driver out of the car and walked him to his truck to stay warm while they waited for emergency vehicles to arrive.
"He was a young guy, early twenties," shared Stoinski. "At first he was pretty incoherent. But he was able to tell me his name. I offered him oxygen because of all the fumes he'd breathed in." Stoinski has an oxygen system in his truck. "Last year, I had an exhaust manifold leak and got carbon monoxide poisoning. I need to be on oxygen until my lung capacity improves." The driver told him he had just bought the car and was driving it home when he started experiencing problems with the transmission.
After the pair were a safe distance from the car, it exploded and was fully engulfed when firefighters arrived. Stoinski said luckily there was no traffic in the area and wonders what would have happened if he hadn't changed his route that evening. "The driver called me a couple days later and thanked me for stopping. He didn't have any serious injuries. He's doing well and told me got a car that's dependable," said Stoinski. "God protected both of us that night and brought us through it safely. I'll do it again if I have to."
This wasn't the first time Stoinski has helped rescue someone from a vehicle fire. "I grew up on a potato farm in Michigan. When I was 14, my dad and I rescued a guy when a tractor caught fire."
For his willingness to assist a fellow driver, TCA has presented Stoinski with a certificate, patch, lapel pin, and truck decals. Magnum has also received a certificate acknowledging their driver as a Highway Angel.
Since the program's inception in August 1997, more than 1,250 drivers have been recognized as Highway Angels for the exemplary kindness, courtesy, and courage they have displayed while on the job. EpicVue sponsors TCA's Highway Angel program.