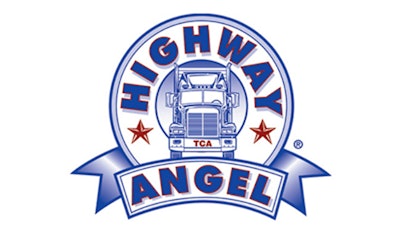 The Truckload Carriers Association has named Chris Delancey, a driver for Covenant from Chattanooga, Tennessee, a Highway Angel, for quickly responding to pleas for help for an unresponsive child.
TCC explains on its Highway Angel website:
It was the day after Christmas last year around 4 a.m. and he was finally on the road, on Interstate 20, heading for Fayetteville, North Carolina, after dealing with serious delays in Atlanta. "It was just after the holidays and the shipper was really backlogged," he shared. Now his bladder was telling him he needed to make a stop. Begrudgingly, he pulled off at the next exit and pulled into a Flying J. He parked at a fuel island and then went inside. On his way out, he could hear a man and woman screaming and yelling, "Something's not right! She's not breathing!"
Delancey dropped his coffee and ran over to where the distraught couple were. He saw a little girl still in her booster seat in the back of the vehicle. "I told them I'm a volunteer firefighter and asked if I could touch their daughter to check her out." They agreed and Chris leaned in with his flashlight and checked to see if she had choked on something, but the airway appeared clear.
"I looked at her eyes but they were unresponsive and showed no dilation." He quickly got her out of the vehicle and laid her down on his rain jacket. "I told the father I was going to do chest compressions and when I got to 30 he needed to cover the girl's nose and mouth and breathe into her mouth as hard as he could." After several attempts, Delancey still couldn't get a pulse.
Delancey lost his own 18-month-old daughter to Sudden Infant Death Syndrome a year ago. "I saw my daughter's face in that little girl. Something told me to keep on going." He continued to work on the child. "Just as an ambulance pulled up she took a breath," Delancey recalled. "It's music to your ears. Although she had a weak pulse, she was breathing. She opened her eyes and said, 'Daddy.'" Delancey quickly scooped her up and ran to the ambulance and handed her over.
Afterward, Delancey climbed back in his truck and broke down into tears. "It hit me, that what I couldn't do for my daughter, I was able to do for this girl so her family could have a second chance with her. If I hadn't been running late that night and if I didn't have a weak bladder, I would have kept on going. I believe there's divine intervention all around us."
For his willingness to assist a little girl and her family, TCA presented Delancey with a certificate, patch, lapel pin, and truck decals. Covenant Transport has also received a certificate acknowledging their driver as a Highway Angel.
Since the program's inception in August 1997, more than 1,250 professional truck drivers have been recognized as Highway Angels for the exemplary kindness, courtesy, and courage they have displayed while on the job. EpicVue sponsors TCA's Highway Angel program.