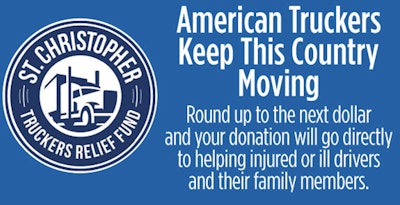 TravelCenters of America Inc., operator of the TA, Petro Stopping Centers and TA Express travel center network, has launched its first point-of-sale fundraising campaign to help professional drivers who may be out of work due to an illness or injury. Customers shopping in the travel stores will have the option to round up their order to the nearest dollar, and 100% of the donated amount will benefit the St. Christopher's Trucker Relief Fund.
TA began its support of SCF in 2010 and has raised nearly $3 million for the organization.
"We're committed to giving back to the millions of professional drivers who call us their home away from home," said Barry Richards, president of TA. "These men and women sacrifice so much for our country, including their own physical health. This point-of-sale campaign provides an easy way for fellow drivers, our other customers, and our employees to help those in need."
The campaign will run at participating TA, Petro and TA Express travel centers through Nov. 30. Thje promotion is not not applicable in Mississippi or South Carolina.