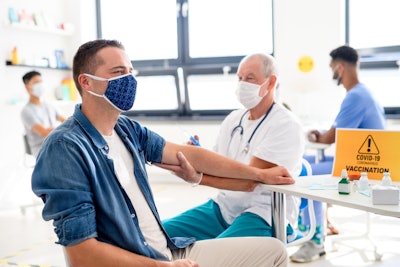 It appears truckers are considerably more skeptical than Americans in general when it comes to getting a COVID-19 vaccination when it becomes available in this country.
A recent Truckers News online poll found:
62% of respondents will not get a COVID vaccination
28% said they will
10% said they were still undecided.
The results of a survey from the Associated Press and NORC Center for Public Affairs Research found:
47% said they will get the vaccination
27% are unsure if they will or not
26% said they won't get the shot
Experts estimate at least 70% of the U.S. population needs to be vaccinated to achieve so-called herd immunity, or the point at which enough people are protected that the virus can be held in check.
A government advisory panel met Thursday, Dec. 10, and recommended the mass use of Pfizer's COVID-19 vaccine. The vaccine is expected to be approved by the federal Food and Drug Administration.
On Tuesday, Dec. 8, the United Kingdom became the first country to begin administering doses of the Pfizer/BioNTech vaccine, the first to be fully-vetted and approved.
Earlier this month the American Trucking Associations sent letters sent to the White House, the CDC Advisory Committee on Immunization Practices, President-elect Biden and the National Governors Association, asking that the trucking industry's workforce be among the first to receive the vaccine along with other essential workers.
As the disease spikes worse than earlier this year, more than 15.5 million people in the United States have been infected with the coronavirus and at least 289,500 have died.
Several truckers made comments to our online poll.
JB wrote: "I feel like a vaccination against any disease like Covid that is going around makes sense. If I refused to be vaccinated that would be showing my parents, wife, and children that I didn't care if I caught Covid and gave it to them. I love them too much to risk their lives like that."
According to Michael: "I'm not taking the vaccine, I don't trust it. That's a way the government might insert a microchip. I'll keep taking my vitamins."
Alfred Rueckert added: "Don't want to be a victim of a vaccine that has been rushed and that will undoubtedly cause bad side effects and death. A virus that has over 99% recovery rate and is not necessary at all. Anyone with a little bit of brains that's done some research knows this is about something else, not a virus."