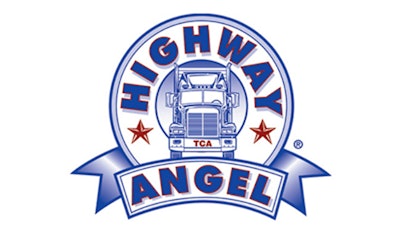 A professional driver for Veriha Trucking, Inc. has been recognized for his actions at the scene of a serious accident several months ago.
The Truckload Carriers Association has named Ken Lukomski, from South Bend, Indiana, a Highway Angel for stopping to help at the scene of a serious head-on collision.
The TCA explains: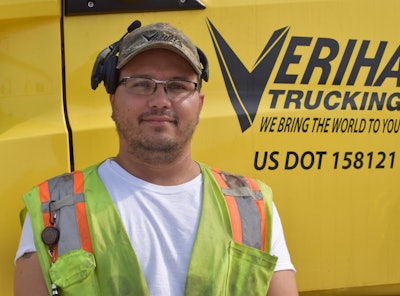 Lukomski was driving eastbound on I-44 near Marshfield, Missouri on Sept. 10 when he came upon a serious accident. An eastbound SUV had driven off the road, broken through the cable barriers in the median, and entered the westbound lanes where it crashed head-on into another vehicle. Without a moment to spare, Lukomski safely pulled over and jumped out with his gear in hand. He ran over to a small car bearing a driver and two small children in the back. He pulled a little girl, about 7 years old, out of the vehicle and laid her down in the median. "She was seriously injured and wasn't breathing," Lukomski said. "There was a woman there who began doing CPR, but she was struggling." Lukomski took over and helped to get the girl breathing again.
"I then ran back and got the toddler and pulled him out in his car seat," he said. "He had a small laceration above his eye." Lukomski then worked with other drivers to extract the driver, an off-duty Webster County sheriff's deputy, who had sustained grave injuries. "I assured him his kids were okay," said Lukomski. "He grabbed my hand as they were getting ready to air-evac him and told me to look after his babies."
Unfortunately, the deputy, Sargeant Justin Burney, died from his injuries. His young daughter sustained serious injuries but is now home with her little brother, who was not seriously injured.
"When I found the father had passed, it choked me up," shared Lukomski. "We have to have a sense of humanity and compassion for others. As a professional driver, it's my responsibility to protect others on the road," he added. "I have the skills and background and training and I feel it's a duty to follow through and represent. You hope the outcome will be for the best. But we know there are tragedies out there."
Lukomski has been driving for six years. He grew up in Montana and worked on a search and rescue team. "The greatest high is the achievement element," he said. "You set out to achieve a goal and you do it. I enjoy being able to help people and make a difference."
TCA has presented Lukomski with a certificate, patch, lapel pin, and truck decals. His employer has also received a certificate acknowledging their driver as a Highway Angel.
Editor's Note: The Truckload Carriers Association has also named William McNamee, a driver with Carbon Express, Inc., and a first responder, a Highway Angel for stopping at the scene. When McNamee arrived he worked with a nurse who had also stopped, to assess the girl's injuries, stabilize her neck, and get her ready for emergency transport.
Since the program's inception in August 1997, nearly 1,300 professional truck drivers have been recognized as Highway Angels for the exemplary kindness, courtesy, and courage they have displayed while on the job.
The program is made possible by Presenting Sponsor, EpicVue, and Supporting Sponsor, DriverFacts.