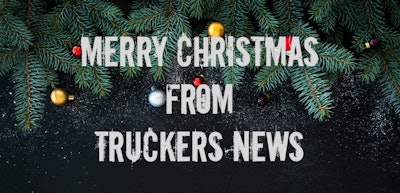 If you're on the road working today, we hope you eventually wind up at a truck stop with plenty of parking, clean showers, fresh hot coffee, and a meal that doesn't come off hot rollers and goes into a bun.
As an essential worker, you deserve this and more. Much more.
While we can't get you home or ensure you get a hearty traditional Christmas dinner, Truckers News can make sure you have a decent Christmas playlist to at least fill your cab with the music of the season.
So, if you're done for the day, settle in, and after you Facetime with the family back home, enjoy some holiday music.
And, Merry Christmas from Truckers News.