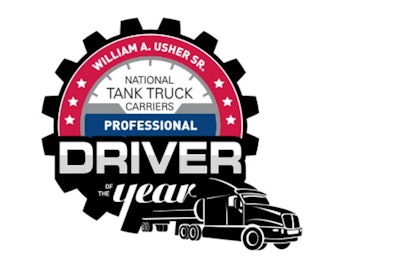 The wait is over for Ronald Baird.
For the third time in four years, the longtime company driver from Thorntown, Indiana was nominated for the National Tank Truck Carriers' Professional Tank Truck Driver of the Year award. The company driver for G & D Trucking/Hoffmann Transportation finally won and was presented with the award at the NTTC's conference going on in Indianapolis.
Baird was among the nominees for the award that was to have been given last year. However, that was, like so many other things in 2020, postponed by the COVID-19 pandemic, and given at this year's gathering.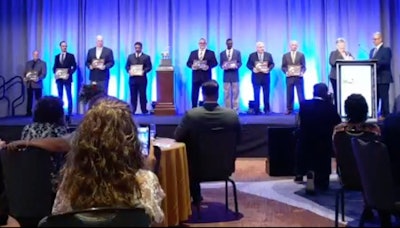 In his acceptance speech, Baird said winning the William A. Usher Sr. Award was like receiving "a lifetime achievement" honor. And, what a driving lifetime it has been for the 75-year-old, who delivers plastic pellets used to make cutlery for Walmart.
Baird began his professional driving career as an 18-year-old owner/operator with a 1960 International Harvester Emeryville. Since then he has:
driven for 57 years, 55 of which were as a tanker driver
spent 34 years as an owner/operator
logged almost 7.2 million safe miles
won 183 custom show truck trophies
operated heavy equipment during a two-year hitch with the Navy
spent two years hauling high-end classic cars
All that time, Baird said his focus has been on safety, and for good reasons.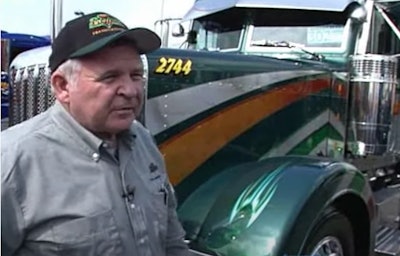 "My goals and the goals of other tanker drivers are to protect the motoring public, protect the reputations of the tank truck industry and our individual companies," Baird said when accepting the award. "I know in a split second I could lose the privilege of doing the job that I love."
He added that his goals each day are to "drive like a professional, dress like a professional, treat everyone with kindness and courtesy and improve the image of tank truck drivers."
The award's winner was announced by the 2018-2019 winner, Barbara Herman, a driver for K Limited Carriers. The award is sponsored by Great Western Casualty Insurance Company.
The other award finalists included:
James W. Ellis, Sr., Grammer Industries, Inc.
Ronald Evans, Liquid Cargo, Inc.
Darrien Henderson, J & M Tank Lines, Inc.
Alen Smailovic, Highway Transport
Abdul Standfield, Quality Carriers, Inc.
Edward Stasyshyn, Trimac Transportation
Tony Stinnett, Usher Transport, Inc.