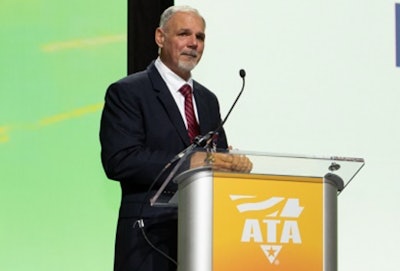 John Lex, a professional driver with Walmart Transportation, was presented with the Trucking Cares Foundation's Premier Achievement Award earlier this week during the American Trucking Associations'' Management Conference and Exhibition in Nashville.
"John is a 32-year veteran, with 3.1 million accident-free miles. He's a husband and father of two sons; a dogged advocate for ATA's issues, who always elevates and shares our industry's image – a true leader," said ATA President and CEO Chris Spear. "As a Road Team Captain, he has been a tireless advocate for his fellow drivers, a representative of all the dedicated, patriotic and faithful people that make up this industry. He is a real example of leadership and it is an honor to give him this award."
Spear presented the award during his annual State of the Industry Address.
"While most of us were focused on the spread of COVID, this year's recipient was dealing with an even bigger threat—cancer of an aggressive nature," Spear said. "It took time to understand what could be done about it, but like our industry, he figured things out. He plotted a course and most importantly, he didn't walk away from the fight.
"He showed us firsthand how the millions of drivers got America through this awful pandemic—they never quit. Today, he is back in his cab doing what he loves most."
A longtime ambassador for the industry, Lex has been an America's Road Team Captain since 2013, and in 2016 won the Mike Russell Trucking Image Award.
The Trucking Cares Foundation's Premier Achievement Award is bestowed annually to an individual or company that exemplifies trucking's spirit of giving. In recognition of the recipient's generosity of time and money, the Foundation will donate to the recipient's 501(c)(3) charity of choice.