TCA
The deadline for nominating outstanding truckers for two major awards is approaching.
Carriers and others have until 12 p.m. Monday, Oct. 25 to submit nominations for the 2021 Company Driver of the Year Award presented by the Truckload Carriers Association and Truckers News. That's also the deadline to nominate someone for the 2021 Owner/Operator of the Year Award presented by TCA and our sister publication Overdrive.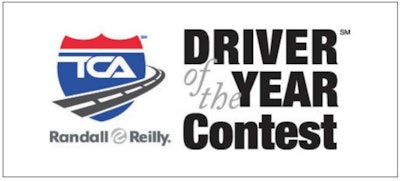 Both contests are sponsored by Love's and Cummins.
The winners each receive $25,000 and two runners-up for each award win $2,500.
The awards will be presented at TCA's annual convention, which will be held March 19-22 at the Wynn Las Vegas Resort.
See contest details and make your nominations on TCA's website.
The goal of the contest is to recognize and pay tribute to the company drivers who provide reliable and safe truck transportation in moving the nation's goods. Completed nomination forms will go through a rigorous judging process.
Three finalists will be chosen from which the grand prize winner will be selected. The grand prize winner will be recognized and honored as the outstanding company driver for 2021 based on his/her ability to operate in a safe manner on the public highways, efforts to enhance the public image of the trucking industry, and positive contributions to the community in which he/she lives. Team drivers can be nominated, together, in one nomination form.
The 2020 Company Driver of the Year award was presented to Betty Aragon of Tucumcari, New Mexico, who drives for Wilson Logistics based in Springfield, Missouri. The 2020 Owner Operator of the Year was presented to Bryan Smith of Asbury, Iowa, who is leased to Tucker Freight Lines, Inc. based in Dubuque, Iowa. Both drivers received a $25,000 cash prize for their achievements.