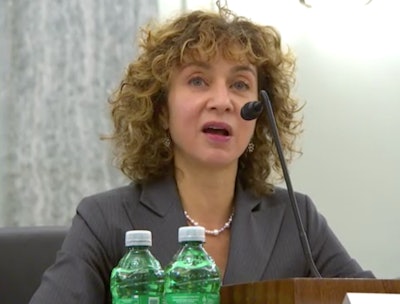 Meera Joshi is one step closer to becoming the actual head of the Federal Motor Carrier Safety Administration.
The U.S. Senate Committee on Commerce, Science, and Transportation voted 22-6 Wednesday, Oct. 20 to send her nomination to the full Senate for possible approval.
The committee vote comes about a month after Joshi, appointed in January by President Joe Biden as FMCSA's deputy administrator, appeared before the committee. During her committee appearance, Joshi fielded questions after making an opening statement in which she praised truckers for their work during the COVID-19 pandemic and recent natural disasters. Joshi also vowed to work with committee members to improve highway safety.
RELATED NEWS: FMCSA nominee Joshi fields questions on congestion, driver pay, hours of service & especially safety
If confirmed by the Senate, she would be the first official administrator of FMCSA since Ray Martinez, who stepped down from the post in October of 2019. The job has since been held by Jim Mullen, Wiley Deck and Joshi, each as acting administrator.
It's uncertain when the full Senate could vote on Joshi's nomination.