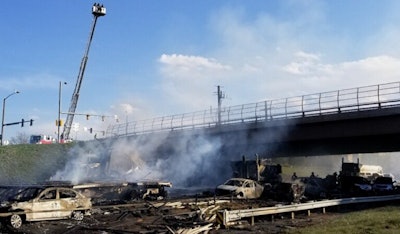 West Metro Fire Department
The truck driver involved in a collision on Interstate 70 near Denver that killed four people and injured at least six others has been convicted on numerous counts, including four of vehicular homicide.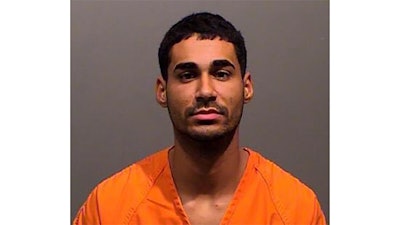 Late last week the jury in the trial of Rogel Aguilera-Mederos also convicted him on multiple counts of careless driving, reckless driving, and vehicular assault. However, the jury found he was not guilty on several counts of attempted first-degree assault in connection with the huge pileup on I-70 in Lakewood, Colorado in April of 2019.
RELATED NEWS: Driver in I-70 crash identified; police say four are dead
Aguilera-Mederos previously pleaded not guilty to all the counts. When he testified on his own behalf, the driver said April 25, 2019 -- the day of the crash that involved 28 other vehicles including four other tractor-trailers -- was his first time driving in the mountains. He was 23 years old at the time of the collision.
Hauling a flatbed loaded with lumber, Aguilera-Mederos was unable to stop for traffic that had backed up because of an earlier accident. He said his brakes failed, but video is said to have shown him passing a runaway truck ramp.
A native of Cuba holding a U.S. green card Aguilera-Mederos drove for a small Houston-based trucking company at the time of the crash.
Killed in the crash were four Colorado residents including:
Doyle Harrison, 61, of Hudson
William Bailey, 67, of Arvada
Miguel Angel Lamas Arellano, 24, of Denver
Stanley Politano, 69, of Arvada
Aguilera-Mederos is to be sentenced Dec. 13.