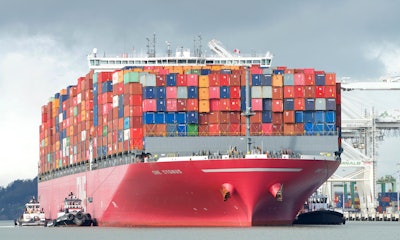 Sheila Fitzgerald / Shutterstock.com
If you drive for one of the largest private fleets or deliver to one of the country's leading retailers, you may find the balance of this year to be especially busy.

Walmart, FedEx and UPS and others are planning to make adjustments to help address some of the growing congestion at West Coast ports. Their efforts are part of moves by the White House to address continuing supply chain problems. Government economists caution that prices are rising and supplies of a variety of products are declining just as the holiday shopping season looms.

President Joe Biden was to meet with officials from the ports of Los Angeles and Long Beach, as well as leaders of the International Longshore and Warehouse Union to discuss congestion and extending hours of operation. A White House statement today said the Port of Los Angeles is moving to 24/7 operations to help move goods out of the port. Long Beach switched to 24/7 operations about a month ago. This expansion means the Port of Los Angeles has nearly doubled the hours that cargo will be able to move out of its docks and onto highways, according to the White House.
NBC quotes a White House official who said, "We'll be working with stakeholders across the supply chain for a 90-day sprint to the end of the year to troubleshoot and alleviate many of the bottlenecks we can quickly address."
RELATED NEWS: FMCSA's Meera Joshi visits NY/NJ port to discuss disruptions
COVID-19, worker shortages, and increased consumer demand have complicated the comings and goings of ships, trains, and trucks at most American ports, but especially those in California. It's been reported there are upwards of 60 cargo ships anchored in the Pacific waiting to unload. There is a similar if smaller issue at the Port of Savanah on the East Coast.

Carriers and retailers have committed to assist in dealing with the mounting cargo backlog.
The commitments being announced today include:
The nation's largest retailer, Walmart, is committing to increase its use of night-time hours significantly and projects they could increase throughput by as much as 50% over the next several weeks.
UPS is committing to an increased use of 24/7 operations and enhanced data sharing with the ports, which could allow it to move up to 20 percent more containers from the ports.
FedEx is committing to work to combine an increase in night time hours with changes to trucking and rail use to increase the volume of containers it will move from the ports. Once these changes are in place, they could double the volume of cargo they can move out of the ports at night.
Samsung is committing to move nearly 60% more containers out of these ports by operating 24/7 through the next 90 days. 72% of U.S. homes have at least one Samsung product, from appliances to consumer electronics.
The Home Depot is committing to move up to 10% additional containers per week during the newly available off-peak port hours at the Ports of L.A. and Long Beach.
Target, which is currently moving about 50 percent of its containers at night, has committed to increasing that amount by 10 percent during the next 90 days to help ease congestion at the ports.