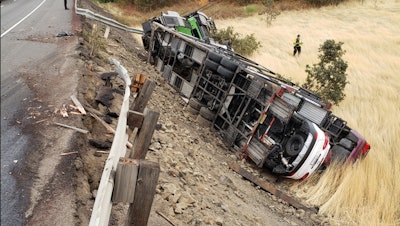 Oregon State Police
A car hauler hit two vehicles -- including an Oregon State Police car -- stopped on Interstate 84 in Oregon before going over a guardrail and crashing recently.
On Sept. 30 the troopers were assisting a disabled vehicle on the south shoulder of I-84 near milepost 71. The trooper and the driver of the disabled vehicle were between the guardrail and the vehicle after hooking up a set of jumper cables.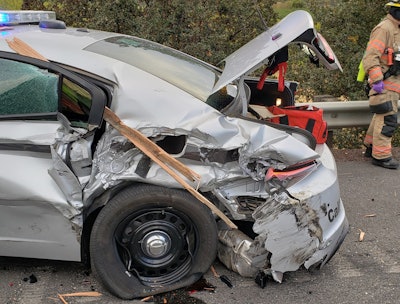 A tractor-trailer was eastbound in the right lane when it hit the disabled vehicle's trailer, the disabled vehicle itself, and then crashed into the rear of the Trooper's patrol car. The tractor-trailer -- which was loaded with five cars at the time -- then crashed into the guardrail and rolled onto its side down the embankment.
The trooper, at the time of impact, was able to jump over the guardrail pulling the disabled vehicle's driver with him to safety. Both the driver and the passenger, who was sitting in the front driver seat of the disabled vehicle, sustained minor injuries that were evaluated at the scene.
The officer sustained minor injuries and was transported to an area hospital for evaluation.
There was no word on the condition of the trucker, who was not identified by police.