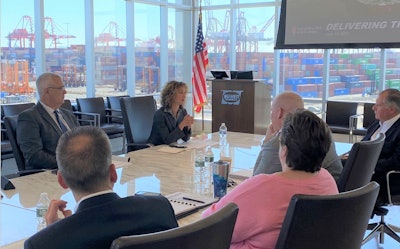 Federal Motor Carrier Safety Administration Deputy Administrator Meera Joshi on Wednesday visited the Port of New York & New Jersey to discuss ongoing supply chain disruptions after the pandemic and the need for infrastructure investments.
Joshi met with leaders from the Port Authority, Maher Terminals, the New Jersey Motor Truck Association, and the Association of Bi-State Motor Carriers to discuss prioritizing truck safety and current supply chain challenges, including trucking capacity, the historical increase in cargo volume, road congestion and more.
The visit was part of the Biden administration's approach to addressing supply chain disruptions. Last week, the administration launched the Supply Chain Disruptions Task Force to help address the issues.
"The pandemic has presented unprecedented economic challenges including supply chain disruption," Joshi said. "It's vitally important as a nation that we address these challenges using the tools at our disposal to minimize the impacts on workers, consumers, and businesses and bolster a strong economic recovery. [Wednesday]'s visit is critical in learning directly from port leaders and motor carriers about how we can help alleviate supply chain challenges while ensuring our roadways, including the ports, remain safe for truck drivers and all road users."
In addition to this visit, the Department of Transportation, along with the other agencies that are part of the task force, will be holding meetings this month with stakeholders to diagnose problems and develop solutions – large and small, public or private – that could help alleviate near-term transitory bottlenecks and supply constraints.