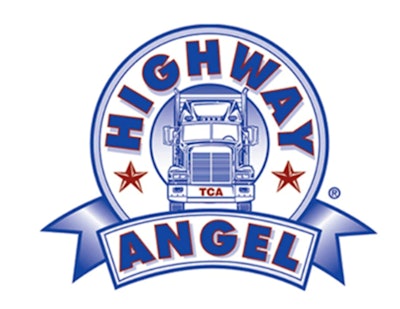 A Mississippi trucker has been recognized for rendering assistance at the scene of a major accident.
The Truckload Carriers Association named Stuart Cole from Jackson, Mississippi a Highway Angel for looking after a motorist and her young daughter as they waited for hours for a serious multi-vehicle accident to clear ahead of them.
The TCA explains:
Patience was the order of the day early one morning on Interstate 80. It was around 5 a.m. and as Cole neared the Indiana state line, traffic slowed to a stop. "I thought it was because of the road construction," he said. "There was only one open lane." Little did he know that a nine-vehicle accident had occurred a mile up ahead involving six trucks and three passenger vehicles. Cole was in for an almost seven-hour wait. "There was nowhere to go," he said because concrete barriers lined both sides of the lane.

A woman who was stopped near Cole was traveling alone with her 10-year-old daughter on their way home to Nebraska. "I noticed he was such a safe driver on the interstate, truly adhering to posted speeds and maintaining great distance," the woman wrote in a letter to Cole's employer, Taylor Truck Line, Inc. in Northfield, Minnesota. "I wanted to compliment him personally, but didn't want traffic to restart when I was out of my vehicle. Well, after 80 minutes at a standstill, I figured it was safe." She said Cole offered her and her daughter food and water. "Later, he even gave us a large towel for some privacy when my daughter had to use a bathroom," she said. "He was so nice and generally reassuring in such a strange predicament. He truly helped me and my daughter feel safe on the road. I will continue to speak highly of both him as a driver and your company. Thank you!"

Cole shared with TCA that the woman was stopped several vehicles ahead of him. "She got out first and walked back to my truck," he recalled. "We started chatting. Other people were getting out to walk around or walk their dogs. Some walked up to the scene of the accident and came back to report what they saw." Cole cautioned the woman to be careful. He offered her bread and sandwich meat that he had in his cab's refrigerator. "I just tried to make the most of it," he said with a laugh. "I didn't get any sleep, but it was worth it. There's so much negativity out here about truck drivers," said Cole. "If I see other motorists who are in need of help, I stop and check to see what I can do."

Cole has been driving since 2003. Prior to that he worked for the State of Mississippi after leaving the Navy in 1996. "I love what I do," he said. "I wouldn't do it if I didn't love it."
For his willingness to assist, TCA presented him with a certificate, patch, lapel pin, and truck decals. His employer has received a letter acknowledging their driver as a Highway Angel.
Since the program's inception in August 1997, nearly 1,300 professional truck drivers have been recognized as Highway Angels for the exemplary kindness, courtesy, and courage they have displayed while on the job.
The program's Presenting Sponsor is EpicVue, and the Supporting Sponsor is DriverFacts.