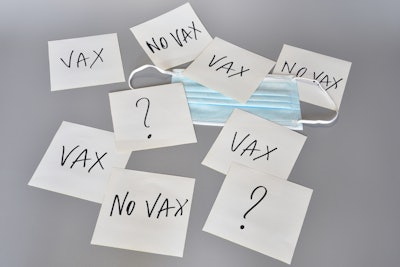 Many truckers appear to be exempt from the federal government's controversial requirement that companies with more than 100 employees assure their workers are vaccinated against COVID-19 or submit to weekly testing and mandated masking.
However, a federal appeals court Saturday issued a stay of the requirement citing "grave statutory and constitutional" issues with the controversial action that has been criticized by many in the trucking industry. The court's order directs the Biden administration to respond to the request for a permanent injunction against the rule by 5 p.m. today.
Labor Secretary Marty Walsh said in an interview with MSNBC that most truck drivers are most likely exempt from the vaccination mandate.
"We've heard some pushback from truckers today," Walsh said in an interview with MSNBC last week. "The ironic thing is most truckers are not covered by this, because they're driving a truck, they're in a cab, they're by themselves, they wouldn't be covered by this."
Truckers meet the exceptions to the vaccination mandate if they work alone or exclusively outdoors and are not interacting with others at pick-up or drop-off locations, according to the Department of Labor. However, team drivers or those who interact with people at pickup or delivery sites would not be exempt.
"While we complete our due diligence to confirm that fact through official channels, we see quotes from Labor Secretary Walsh as an enormous victory for our association and industry," said American Trucking Associations' President and CEO Chris Spear. "Given the nationwide shortage of truck drivers, it is vital that our industry has the relief it needs to keep critical goods moving, including food, fuel, medicine and the vaccine itself."
The ATA criticized the Occupational Health and Safety Administration, saying the agency used "extraordinary authority unwisely, applying it across all industries at an arbitrary threshold of 100 employees that fails to factor in actual risks. We are weighing all options of recourse to ensure every segment of our industry's workforce is shielded from the unintended consequences of this misguided mandate."
In an online poll in August, Truckers News asked drivers what they would do if they were required to be vaccinated. The majority said they would quit or make their employer fire them rather than get vaccinated. How do you feel about that today? Take the poll below.