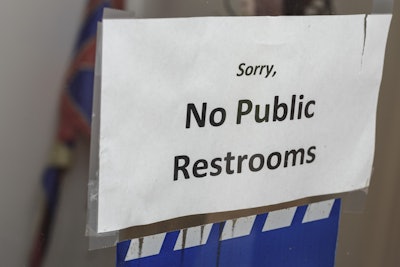 The effort by a Pennsylvania legislator to guarantee access to bathrooms for truckers has stalled for now, and the man who introduced it won't be back to continue seeking its passage.
In March, Rep. Jason Silvas, a Republican from Washington Township in south-central Pennsylvania, introduced a bill that would have required retail establishments, shippers, receivers, and port terminals to provide truck drivers restroom access when delivering or picking up goods during regular business hours.
Bathroom access would have been enforced by the state Department of Health. The bill requires the department to issue a written notice for an initial violation, followed by a $300 fine for subsequent violations.
In a memo accompanying the bill, Silvas wrote, "Truck drivers are often on the road without proper restroom facilities for many hours, with their first chance of a break coming when they are either picking up or dropping off a shipment. Allowing these drivers access to businesses facilities will prevent them from having to pull over on the highway, creating unsafe conditions for both themselves and other motorists."
Thirteen other state legislators supported Silvas' bill, which was assigned to the House of Representatives Transportation Committee. That's where it has remained.
Silvas said he "tried and tried and tried" to get the committee to act on it, but that didn't happen. He said legislators in the state have no desire to pass bills that include mandates.
The future of the bill is in doubt as Silvas won't be returning to Harrisburg when his term ends in November. He lost in a three-way part primary election in May.
However, Silvas said he expects another legislator to advance the legislation in his absence. He urged truckers to contact their legislators and advocate for the bill's passage.
Silvas' legislation had the support of the Pennsylvania Motor Truck Association and the Owner-Operators Independent Drivers Association.