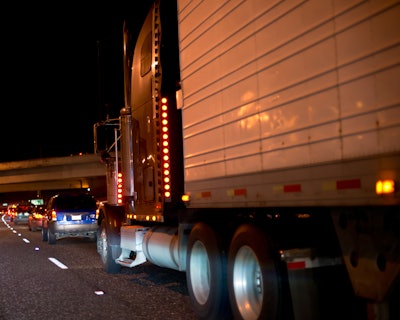 In April of this year, Michigan Rep. Andy Levin introduced a bill in the House of Representatives that would require companies to pay overtime to truck drivers.
Levin's bill, called Guaranteeing Overtime for Truckers Act, would undo truckers' exemption from the Fair Labor Standards Act. That exemption dates back to the 1930s and was originally enacted as a safety issue to keep drivers from working too many hours.
Now Levin's bill has a companion in the Senate. On Monday, Sept. 12, Sen. Alex Padilla, D-California, introduced similar legislation. The bill was supported by Senators Ed Markey (D-Massachusetts), Richard Blumenthal (D-Connecticut), Bernie Sanders (I-Vermont), and Elizabeth Warren (D-Massachusetts.).
"America's truck drivers are on the frontlines of keeping goods and our economy moving. In fact, more than 70 percent of goods across the United States are shipped by truck," said Padilla in a statement. "Unfortunately, the COVID-19 pandemic and the resulting supply chain crisis aggravated persistent hardships for truckers, including long hours spent waiting—often unpaid—to load and unload goods. As our nation makes historic investments in our port and supply chain infrastructure, I've introduced this legislation to improve wages and working conditions for these essential workers and build the foundation for good-paying, stable trucking jobs."
RELATED NEWS: Bill introduced to remove truckers' overtime exemption
"Truck drivers are the engines of our economy, ensuring that everything from consumer goods to commodities reach their destination on time," said Markey. "Outdated labor regulations have denied these vital workers overtime, leading to high turnover and supply chain disruptions. Don't be fooled by the trucking companies' crocodile tears. There is a simple way to recruit and retain drivers: increase their pay. The Guaranteeing Overtime for Truckers Act does exactly that by eliminating the overtime exemption. I am proud to work alongside Senator Padilla on this legislation and am committed to ensuring that truck drivers receive the respect and rightful pay that they've earned."
In response to an Executive Order by President Biden, the U.S. Department of Transportation issued a Freight and Logistics Supply Chain Assessment in February, which highlights high turnover rates and compensation issues in the trucking industry, according to a statement from the two senators. Among its recommendations, the Department called on Congress to repeal the motor carrier provision of the Fair Labor Standards Act of 1938.
The legislation is supported by the International Brotherhood of Teamsters, the Owner-Operator Independent Drivers Association, the Truck Safety Coalition, the Institute for Safer Trucking, Parents Against Tired Truckers, and CRASH.
The full text of the bill is available here.