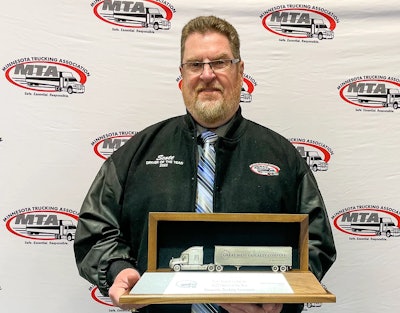 MTA
Numerous truckers have been honored by the companies they drive for and one was recognized by a state trucking organization. Here's a roundup of many of the drivers who have been recognized.
Dart trucker named Minnesota Driver of the Year
A trucker with a career spanning 46 years was recently named the 2022 Driver of the Year by the Minnesota Trucking Association.
Scott Swenson, who drives for the Dart Transit Company in Eagan Minnesota received his award at the MTA's annual Driver of the Year Banquet recently.
Swenson has driven for 46 years, 40 of them for Dart.
In a recent Facebook post, the company said of Swenson, "He deeply cares about safety and customer service. Scott is remarkably loyal and is always willing to lend a helping hand as well as advice to anyone who asks!"
In an interview with KSTP-TV, Swenson said, "I've got over four million miles accident-free and I'm almost to five. I'm working my way to five million. I can't see sitting there staring at a computer talking to people. I'd rather be out running down the road. It's just in my blood."
The association said it has been honoring the industry's safest commercial drivers through its Driver of the Year program, recognizing truck driving professionals who make the trucking industry a success through their dedication to safety. The drivers who are chosen meet a high standard of requirements including an outstanding driving and work record; contribution to industry and highway safety; and involvement in the community. One of the 12 nominees is then selected as Driver of the Year by a panel of judges including Matthew Marrin, Division Administrator for Federal Motor Carrier Safety Administration; Laura Roads, MnDOT; and Captain Jon Olsen, Minnesota State Patrol.
Stevens honors its drivers of the year
Stevens Transport recently honored numerous drivers of the year for their performances in 2022. They include:
Company Driver of the Year - John Douglas, Runner-Up Company Driver of the Year - Joseph WhiteIndependent
Contractor Driver of the Year - Richard Hackl, Runner-Up Independent Contractor Driver of the Year - James Townsend
Company Trainer of the Year - Edward Boechler, Runner-Up Company Trainer of the Year - Dean Vogan
Independent Contractor Trainer of the Year - Gerald Rhoden, Runner-Up Contractor Trainer of the Year - Kevin Collins
New Driver of the Year - Hector Molina, Runner-Up New Driver of the Year - Daniel Foster
Owner Operator of the Year - Douglas Barriger, Runner-Up Owner Operator of the Year - Trung Nguyen
Team of the Year - Tobey Spears and Brent Collins, Runner-Up Team of the Year - Jim and Ann Lewis
Dedicated Driver of the Year - Solaman Chrisostom, Runner-Up Dedicated Driver of the Year - Justin Higgs
TMC Transportation recognizes driver for 4 million safe miles
Des Moines, Iowa-based TMC Transportation recently honored Kevin Dinsdale for surpassing 4 million safe miles during his 37 years with the company.
In. a Facebook post, Kyle Miller, Kevin's fleet manager and operations manager said, "Kevin is a guy that shares so many of the TMC core values. He works as hard as anyone I've ever had the opportunity to work with. It is not uncommon for him to deliver six or seven loads a week. Over the last 37 years, he has amassed over 4,000,000 safe miles. His commitment to Destination Excellence shines through with everything he does. Looking forward to the goal of 5,000,000 safe, I know you can get it. Thank you for all you do, Kevin."
Josh Perry, TMC's vice president of safety said, "When I think about how far TMC has come, Kevin is a name that immediately comes to mind. Kevin has achieved about every award that you can achieve at TMC and now he has achieved 4 million safe miles. There are only two drivers now with over 4 million safe miles at TMC and now we hope this is another elite group that can continue to grow. I know Kevin takes a lot pride in what he does and how far he has come."
Kottke Trucking announces winner of distinguished driver award
Kottke Trucking, which is based in Buffalo Lake, Minnesota, recently presented its ninth annual Duane and Connie Kottke Distinguished Driver of the Year Award to Ettienne Alberts.
In a Facebook post, the company said, "To give you a glimpse of the great person that Ettienne is, this is what his nominator said about him: 'Ettienne always has a very friendly and positive disposition, nothing but a can-do attitude. He is never late for his loads because of his planning abilities. Even in the most extreme circumstances beyond his control he still manages to be on time. He is a pleasure to work with and is always willing to go the extra mile and help out in a crunch. He is always very professional and wants to do a good job. Ettienne represents #BleedingBlue very well.'"
Kottke also announced the recipients of its Jim Doering Award of Excellence. They include Alberts, Brandon Padgett, Kristian Rawlings and Julio Garcia Cabrera.
BLC Transportation names its driver of the year
Bill Fox, was recently honored as the 2022 driver of the year for BLC Transportation.
As such, Fox receives a Driver of the Year Jacket, his choice of a free dinner, a plaque and a complimentary truck payment made by the company.
Fox has been with the Springfield, Missouri-based company for five years.
In announcing the award, owner and Chief Executive Officer Brent Forbes said the focus of the award is on safety.