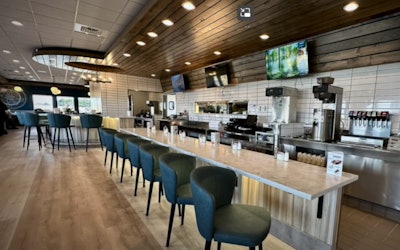 Travel Centers of America
One of the recurring complaints voiced by many truckers is the disappearance of full-service, sit-down restaurants at truck stops.
At least one major truck stop chain has started to change that.
TravelCenters of America has opened its new proprietary restaurant brand Fork & Compass at the Petro Stopping Center in Perrysburg, Ohio. The traditional restaurant opened in January, and TA held a formal ribbon cutting earlier this week.
A statement on the company's website said, "The Fork & Compass concept was created to provide a reimagined experience for professional drivers, motorists, and local residents. Designed to be a destination spot for the community, the restaurant has unique food options for all ages in a family-friendly atmosphere.
"The new design layout fosters a relaxing environment with various seating options, including booths, counter seats, a large community table for family and friends to gather, or a more intimate setting for two near the 'fireplace.' Most seats have electrical outlets for those wishing to work or play."
RELATED NEWS: TravelCenters of America purchased by British company for $1.3 billion
TA said the Fork & Compass is open for breakfast, lunch, and dinner seven days a week. Its menu features appetizers and unique options including a mac and cheese bar. Additionally, the menu highlights healthy options recommended by Cleveland Clinic, one of the world's most respected academic medical centers. TA and Cleveland Clinic recently announced a collaboration to support drivers' health and well-being by enhancing healthy food offerings and education opportunities at TA's full-service restaurants.
"Food truly is a universal language, and it has a way of uniting people," said Chef Maira Isabel. "Fork & Compass meals are "cooked with love" and reflect the diverse backgrounds of our guests."
TA also operates Country Pride and Iron Skillet restaurants.