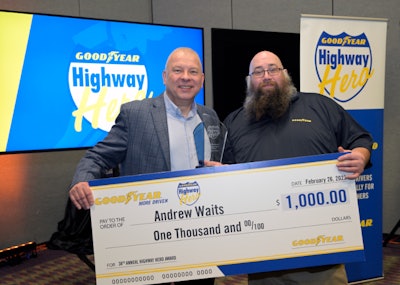 J.B. Hunt Transport driver Andrew Waits of Tacoma, Washington, Sunday, Feb. 26, was named the 38th winner of the Goodyear Highway Hero Award at the 2023 Technology & Maintenance Council Annual Meeting in Orlando, Florida. Waits is being celebrated for his swift thinking and courage to act while a life was on the line. As a result of an accident, a motorcyclist was thrown from his vehicle on a busy, four-lane highway. Andrew quickly positioned his tractor-trailer to shield the unconscious motorcyclist from oncoming traffic and attended to the injured man using skills he learned as a volunteer firefighter until first responders could arrive.
"You never know what you're going to see on any given day," said Andrew. "This accident happened right in front of me, and I had to think quick. I utilized my knowledge and instincts to help those in need at a very crucial time."
"We're proud to honor Andrew and all of this year's finalists in the Goodyear Highway Hero Award," said Dave Beasley, vice president of Goodyear North America Commercial. "Truck drivers keep our country moving, and it gives me comfort to know we have people like Andrew on the road, getting the job done and courageously helping out when needed."
"Andrew prioritized the safety and well-being of others in a moment where every second is critical," said Nick Hobbs, chief operating officer and president of Contract Services at J.B. Hunt. "His actions were selfless and courageous, and we are grateful that Goodyear is recognizing him with the 2022 Highway Hero Award."
Waits is the first driver from J.B. Hunt to receive the award from Goodyear. In September 2022, Goodyear asked the trucking community to nominate a driver in their life who demonstrated an extraordinary act of courage on the road. After receiving dozens of inspiring story submissions, finalists were identified and a panel of independent industry judges voted on the grand prize winner.
The two additional finalists also have incredible stories:
Barry Perkins, of Burlington, New Jersey, encountered a life-threatening accident that involved numerous cars, including a vehicle that caught fire with a family trapped inside. Perkins extinguished the fire and helped the driver and her children exit the vehicle and get safely off the road.
Robert Windsor, of Norman, Oklahoma, encountered a vehicle that was pinned underneath a semi-truck and engulfed in flames. Windsor used his fire extinguisher to neutralize the flames before rescuing a young girl from the pinned vehicle.
To learn more about the Highway Hero Award, read about former winners, visit www.goodyeartrucktires.com/newsroom/highway-heroes/