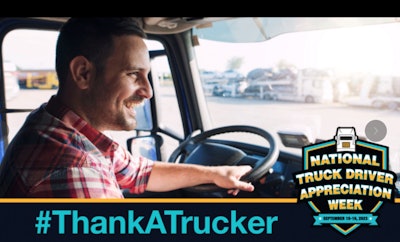 The St. Christopher Truckers Relief Fund has a busy Truck Driver Appreciation Week planned with special messages of gratitude and recognition to truck drivers with
the help of corporate sponsors Brenny Transportation, Shell Rotella, Pilot, Echo Global Logistics, and Truckstop.
Each of the sponsors has donated $5,000 to St. Christopher as part of the campaign, which runs through Sept. 30. The campaign includes a landing page with statements of support, and pictures and stories of drivers that are the backbone of the corporate sponsors.
"I am so proud to be the St. Christopher Fund Board President, which gives me one more opportunity to highlight the importance of professional truck drivers," said Joyce Brenny, president of Brenny Transportation Inc., & Brenny Specialized. "Professional Truck drivers, you are the leaders of our industry! Thank you!"
Over the last 15 years, nearly 4,000 drivers have turned to the St. Christopher Truckers Relief Fund for support when an illness or injury took them off the road.
"We are honored to support truckers through the St. Christopher Fund, especially during this recognition week," said Julie Wright, North American Brand Manager at Shell Rotella. "This builds on the commitment Shell Rotella made to work with SCF throughout 2023 and beyond."
SCF is the only non-profit in the industry tangibly supporting drivers when they are out of work because of injury or illness. SCF also has proven success with our FREE Health and Wellness programs including tobacco cessation, diabetes prevention, vaccine vouchers for flu, pneumonia and shingles, and prostate cancer screenings.
This TDAW campaign recognizes drivers as essential trucking heroes and shares real names and faces of real drivers delivering real goods, we all depend on every day. Drivers will be highlighted on SCF's TDAW landing page. To nominate a driver go to SCF's TDAW landing page and share your driver's story.
"We are so grateful for our sponsors who have come forward to show their appreciation for their drivers during Truck Driver Appreciation Week," said Shannon Currier, Director of Philanthropy with St. Christopher Truckers Relief Fund. "Support of drivers through the St. Christopher Fund provides help and hope when drivers need it most. Together, we can make a real difference in drivers' lives. Because truck drivers are more than their job title. They are real people, with real families."
To date, the St. Christopher Truckers Relief Fund has provided $4.5+ million directly to bill holders on behalf of 3,754+ professional drivers.
ATA invites lawmakers to test the truck driving skills
On Wednesday, the American Trucking Associations is inviting the media, Members of Congress, and staff to meet professional truck drivers and test their truck driving skills.
The event takes place in the midst of National Truck Driver Appreciation Week. It will be held at the ATA's Capitol Hill Office, 430 First Street SE, in Washington, D.C.
Six Captains of America's Road Team from Alabama, Arizona, Illinois, Iowa, Maine, and North Carolina with a combined 176 years of experience and 15.2 million accident-free miles will be on hand to show off the ATA's tractor-trailer, Interstate One.
Interstate One's 53-foot trailer includes a simulator for the public to use to compete for the highest score in a friendly truck driving competition.
Attendees will be able to experience truck driving firsthand, learn about the trucking industry's impact and initiatives, and gain a newfound respect for the work that truck drivers do on a daily basis.
The event is Wednesday from 9:30 a.m. to 3 p.m.
Southern Recipe donates to St. Christopher Fund
In Southern Recipe's annual National Truck Driver Appreciation Week campaign, the brand will once again support the St. Christopher Truckers Relief Fund with a $7,500 donation plus an additional $5,000 donation from Rudolph Foods going directly to the organization's trucker wellness programs. Bringing awareness to the truck driving community and Truck Driver Appreciation Week has been a passion of Southern Recipe's for more than a decade. Throughout August and into Truck Driver Appreciation Week, drivers will be encouraged to sign up for free health screenings and services on the St. Christopher Truckers Relief Fund website.
This year, Southern Recipe will honor our truckers by aiding in their overall well-being and encouraging sign-ups to the free health programs available to them, such as Rigs Without Cigs and the Diabetes Prevention Program. Southern Recipe's Truck Driver Appreciation Week celebration also invites fans to share the "Tune Up Challenge" with their social media communities to build awareness of the wellness programs offered by the St. Christopher Truckers Relief Fund. Every share accounts for an entry for free product from Southern Recipe, and every trucker who signs up for a program on the SCF website is entered to win a free case of pork rinds as well.
"Everything we do, and everything we buy, is touched by a truck driver. Every year, we strive to support drivers as best we can," shared Mark Singleton, Vice President of Sales and Marketing at Southern Recipe and Rudolph Foods. "These men and women help fuel our families with food and comfort. We've been celebrating these important road heroes for more than a decade now, with our incredible charity partner, the St. Christopher Truckers Relief Fund."
Pilot has trucker specials for all of September
Pilot Company is kicking off Driver Appreciation month with exclusive offers all of September for free drinks and discounts on meals to thank professional drivers for all they do to keep North America moving. The company will also host a celebration at one of its newly remodeled travel centers in North Little Rock, Arkansas.
In September, professional drivers will be able to enjoy exclusive savings through the myRewards Plus app at participating Pilot, Flying J and One9 travel centers, including:
Three free drinks every week on Pilot coff­ee, fountain drinks, and top-selling beverage brands from the cooler
Offers on freshly prepared foods each week— including 50% off pizza, burgers, salads, and more
Food and beverage discounts of 10% for military or veteran pro drivers (after authentication through ID.me)
Additional off­ers, including food and beverage buy-one-get-one-free deals throughout the month
Canadian professional drivers will automatically receive an extra bonus point per four liters when they swipe their myRewards® card
Denny's, Motel 6 offer breakfast special to truckers
During National Truck Driver Appreciation Week, drivers can get 50% off a breakfast meal at Denny's locations in travel centers thanks to its new partnership with Motel 6. The two brands have teamed up to show appreciation for America's road warriors by launching a first-ever breakfast deal during the month of September.
With the Motel $6 Meal Deal Trucker Breakfast drivers can get an Original Grand Slam meal, that includes two buttermilk pancakes, two bacon strips, two sausage links and two eggs, for only $6.
The special is available Sept. 5 – Sept. 30, at all 130 Denny's restaurants found in travel centers.
Truckers can join My6, the free rewards program from Motel 6 and Studio 6, to get a downloadable coupon in the My6 trucker marketplace on the app.
To become a My6 member and receive 6% off stays at all 1,400 Motel 6 and Studio 6 locations year-round, drivers can download the free app on iOS and Android.
Love's recognizes truckers throughout this month
For all of September, professional drivers can visit Love's Travel Stops locations to redeem offers through Love's loyalty program, My Love Rewards, and on the Love's Connect App.
My Love Rewards members will receive an email with two offers available throughout September. Drivers can enjoy a free Love's-branded consumable product up to $5 in value, including Love's water, bagged candy, salty snacks, and trail mix. They can also earn $10 in My Love Rewards points on an oil change and preventative maintenance at any Love's Truck Care or Speedco location during the month. Members activate both offers with a single tap in the special offer email that is sent to them Sept. 1.
Additional Driver Appreciation Month deals include:
Fresh food and drink deals Sept. 11-15.
Free hot sandwich, bowl or fresh salad with an oil change Sept. 11-15.
Free Love's hat with the purchase of a 3-pack of gloves for $9.99, while supplies last.
Only My Love Rewards provides drivers with free fountain drink refills and showers with any commercial diesel fuel fill of 50 gallons or more. Click here for more information on the My Love Rewards program.
TravelCenters of America offering trucker activities
TravelCenters of America is recognizing professional drivers across the country Sept. 10-17 for their countless efforts and contributions. To honor drivers, TA said it has curated an exclusive driver experience to show its appreciation.
Professional drivers who stop at participating locations during National Truck Driver Appreciation Week will have the opportunity to engage in activities and initiatives, including:
Cookouts
'Thank You' cards with coupons
Window washes
Truck mid-trip and tire inspections
Goodie bags
Cornhole tournaments
The theme for this year's National Truck Driver Appreciation Week is 'Drivers Go the Extra Mile!', marking TA's 51st year. TA has a variety of programs tailored to the needs of truck drivers, including a collaboration with Cleveland Clinic, providing healthy food options for truckers on the road.