One Midwest trucking company is raising pay for its employees who have served in the U.S. military.
Baylor Trucking,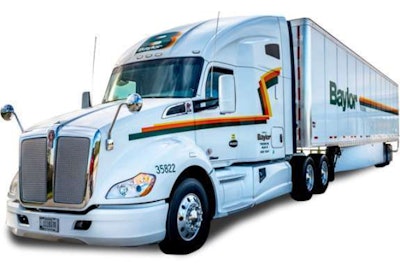 which is based in Milan, Indiana, announced an expansion of its Veteran's Recognition Program with a $.01 per mile increase, $1 per hour for local drivers and a 1 percent salary increase for all office associates. The pay increase is expected to provide an additional $50,000 to veterans working for Baylor and additional earnings for new hires.
See the Truckers News Salute to Veterans.
Company President Cari Baylor had the opportunity to spend time with Gen. Stanley McChrystal and asked, "What can we do to support those coming home?" According to a statement from the company, McChrystal's response was, "Hire them."
"For the sacrifices these brave men and women have made for our country, this program is another way our company can say thank you," said Baylor.
Veteran Baylor drivers are issued specially wrapped trucks decorated with the U.S. flag, the Constitution and patriotic themes, and receive a star truck decal notating his/her branch of service.