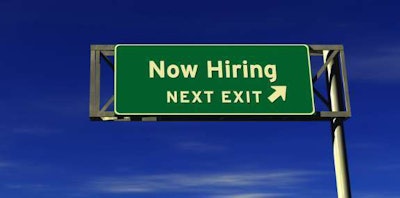 Trucking industry employment in December grew by 1,400 jobs, according to the Labor Department's preliminary Employment Situation Report released Jan. 6. Following a turbulent first half of 2016, December's job gains made six straight for industry employment growth, including fourth quarter gains of nearly 12,000 jobs.
The U.S. economy as a whole in December added 156,000 jobs, and the country's unemployment rate was 4.6 percent, according to the DOL.
For-hire trucking industry employment totaled 1.4742 million in December, up more than 10,000 jobs from December 2015's 1.4638 million. That number does not include private carrier employment and is based on payroll stats.
The broader transportation and warehousing sector gained 14,700 jobs in December, the DOL reports. Manufacturing added 17,000 jobs, and construction lost 3,000.