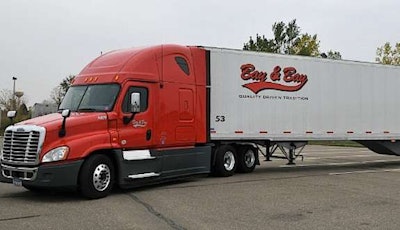 Minnesota-based Bay & Bay Transportation recently rolled out new rates for owner-operators effective April 1.
According to the company, loaded mileage pay will now be $0.97 – $1.27 based on the length of the run. The exact loaded mileage pay breakdown is:
$1.27 for 0-150 miles
$1.17 for 151-250 miles
$1.07 for 251-300 miles
97 cents for 301 or more miles
Empty mileage pay will be 90 cents per mile.
Current independent contractors can stay on the company's existing compensation plan or switch to the new rates when they become available.
"At Bay & Bay, we understand that a driver's time is important and they should be compensated accordingly," said Sam Anderson, president of Bay & Bay. "This is why our owner-operators can rely on getting paid for their miles, whether unloaded or loaded."
In a statement about the new rates, the company said owner-operators can expect to average around 2,500 miles per week. Benefits include paid fuel surcharges on loaded miles, 100 percent reimbursement on authorized tolls, in-cab scanners, quarterly safety bonuses and discounts on fuel. Accessorial pay includes detention pay, layover pay and extra stop pay. Lease purchase opportunities are also available.
To become an independent contractor with Bay & Bay, drivers must have a valid CDL-A; at least one year of OTR experience; a passed Minnesota DOT inspection within the last 10 years; liability, physical damage and occupational accident insurance; and maintenance, fuel and road tax escrow accounts.