A bill introduced Monday in the House of Representatives to fund the Department of Transportation in the 2018 fiscal year included provisions that would, if approved and signed into law:
prohibit states from requiring carriers to give drivers paid meal and rest breaks, as now mandated by some states
exempt livestock and insect haulers from compliance with mandate requiring trucks to be equipped with electronic logging devices
require the Federal Motor Carrier Safety Administration to adopt reforms to its Compliance, Safety, Accountability carrier safety rating system before proceeding with a Safety Fitness Determination rulemaking
In our sister publication Overdrive, News Editor James Jaillet writes: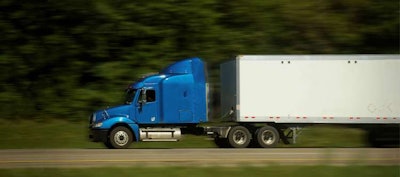 "The meal and rest break provisions in the House bill are a part of a continued push at the national level to rein in states' ability to regulate drivers' work schedules and, to an extent, driver pay. The so-called Federal Authority provision in the bill reinforces the federal government's authority in regulating drivers' work schedules, as established by the 1994 Federal Aviation Administration Authorization Act.
"States would be prohibited from requiring carriers to allow drivers paid meal and rest breaks. The language also seemingly protects carriers from being required by law to pay drivers for non-driving tasks, as some courts have ruled in recent years.
"Some states, such as California, require employers to give their workers paid meal and rest breaks at certain intervals. Carriers had argued they were exempt from such requirements, given the protections set by the FAAAA (aka F4A). A federal appeals court in 2014, however, ruled carriers must afford drivers the breaks and hit defendant Penske Logistics with a $750,000 settlement order.
"The language in the House bill is intended to protect carriers from such court-ordered payouts and to prevent them from having to comply with state-level laws that interfere with drivers' daily 14-hour work window.
"Carriers, per the language, would also be protected from "additional obligations" if drivers "work to the full extent…as permitted" by federal hours of service regulations. Though the language is vague, it could protect carriers from court-ordered payouts regarding drivers' non-driving time tasks. Walmart was ordered earlier this year to pay drivers $60 million in back pay for non-driving time.
"Opponents of the language argue the provisions would stamp out driver pay reform efforts ongoing at the state level."
For the bill to become law, it must be passed by the House and the Senate and signed by President Trump. The Senate has not yet released its version of the DOT appropriations bill, though it does include the meal and rest break language in another bill — an FAA reauthorization bill that cleared the Senate's transportation committee last week.