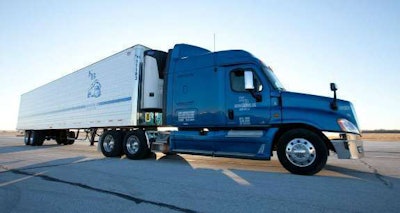 K&B Transportation, which is located in South Sioux City, Nebraska is raising the starting wage for drivers starting in May.
The increase, effective May 7, raises the starting wage for over-the-road company drivers in K&B's Midwest and national fleets by 5 cents to 50 cents per mile. It also raises mileage rates for drivers already with the company.
Raises for drivers and their time with the company include:
0 to 6 months, from 45 cpm to 50 cpm
6 months to one year, from 46 cpm to 51 cpm
1 year to 2 years, from 47 cpm to 52 cpm
2 years to 5 years, from 48 cpm to 53 cpm
5 years and more, from 49/50 pm to 54 cpm
With this increase, new hires at K&B are guaranteed $1,250 per week minimum with 2,500 guaranteed miles, according to the company.
K&B also offers a bonus package that rewards drivers for clean inspections, referrals and safety issues. Combined, drivers can earn more than $65,000 in their first year with the company, according to K&B.