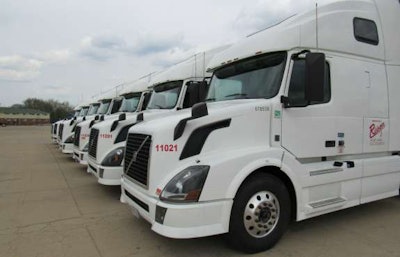 A family-owned, dry van carrier based in Morton, Illinois has announced a new pay program.
Risinger, which operates 300 power units and 950 trailers, rolls out its new "Triple Play" program Sunday, June 17. It gives drivers three different pay incentives to maximize their earning potential, according to a statement from the company.
With the Triple Play program, the company's owner-operators and lease purchase drivers can earn a weekly minimum pay guarantee of $1,000, a $1,000 sign-on bonus and up to a $1,000 quarterly "High Roller" safety and productivity bonus, depending on eligibility and terms. The statement from Risinger said that under the new pay program, drivers receive consistent miles, several bonus opportunities, no-touch freight, fuel surcharge, paid tolls and scales and no Qualcomm fees.
"Our drivers are the heart of Risinger," said Dean Hoffman, president of Risinger. "We are constantly looking for new ways to bring our drivers the best in terms of pay and benefits. Risinger's new Triple Play program allows drivers to earn more reliable pay while still having control over their own truck driving businesses."