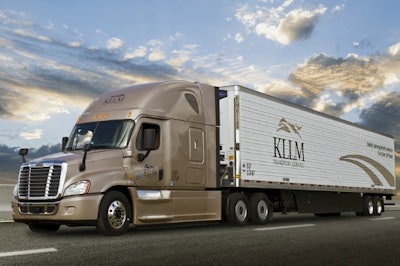 KLLM Transportation has acquired the refrigerated division of Maverick Transportation, with the deal effective Monday, May 27. Terms of the deal were not disclosed.
KLLM CEO Jim Richards says the company will retain any drivers from Maverick's reefer division that want to join the company, and that KLLM intends to "make the conversion quickly and as seamlessly as possible." Orientation for those drivers will begin next week, says Richards.
"We worked hard to put together a lucrative package for these drivers," he said. "I can assure you everything is being done to make sure they're taken care of and compensated for all their time and trying to make it a smooth transition."
KLLM, whose core business is in the refrigerated segment, is based in Jackson, Mississippi. In sum, the company employs about 3,500 drivers, which includes sister company Frozen Foods Express. Richards says he expects about 100 to 150 drivers to transition from Maverick to KLLM.
The merger "helps us grow our fleet, and we're certainly excited to be able to bring their drivers on to our company," he said.
Requests for comment from Maverick have not yet been returned. Any information provided by Maverick will be published if it becomes available.
The Little Rock, Arkansas-based company deployed emails and messages via ELDs to employees on Thursday notifying them of the sale of its refrigerated division. Drivers on Facebook and other platforms shared screenshots of those purported messages.
"Maverick entered the temperature controlled business in 2010 as part of a diversification strategy as we were coming out of the Great Recession. After nine years of hard work building our business, we have made the very difficult decision to exit the temperature controlled space and focus on our strengths, our flatbed, and specialized units," the message reads, noting that KLLM will be "purchasing selected tractors and offering employment to our drivers."