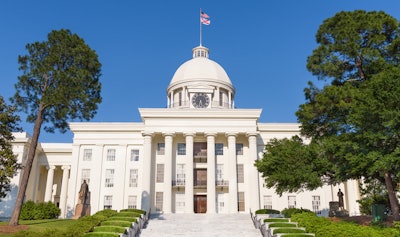 A bill to lower the minimum required age from 21 to 18 to obtain a commercial driver's license for intrastate driving has passed the Alabama legislature and awaits Gov. Kay Ivey's signature. The bill will go into effect Feb. 7, 2020 following Gov. Ivey's approval.
The bill passed the Senate May 15 with a vote of 24-0 after previously passing in the House by a vote of 96-1. It reached Ivey's desk May 16.
"This legislation is a win-win for motor carriers, shippers and consumers," said Alabama Trucking Association President and CEO Frank Filgo in a statement. "The ongoing truck driver shortage is a burden to the economy. With the passage of this bill, additional drivers will help advance long-term, sustainable profitability for Alabama motor carriers and suppliers."
Currently, the state bars anyone under the age of 21 from operating a commercial motor vehicle. Drivers who are at least 18 but under 21 years old will still not be able to transport hazardous materials, oversized loads, or loads that require permits from the Alabama Department of Transportation.
The goal of the bill is to expand the pool of available drivers to meet a growing need for more drivers in the state.
Before passing the bill, Alabama was one of only two states (the other being Hawaii) to require drivers to be 21 to obtain a CDL to drive intrastate.
The bill received praise from the Business Council of Alabama, Alabama Beverage Association, Alabama Farmers Federation, Alabama Retail Association, Alabama Rural Electric Association of Cooperatives, Alabama Trucking Association, Alabama's chapter of the National Federation of Independent Business, and Manufacture Alabama.